Ski lift probe after school trip girl Poonam Bhattal dies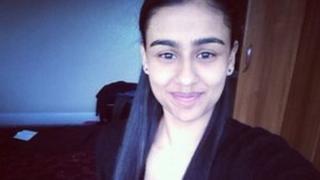 An investigation has been launched into the safety of a ski-lift after a teenage girl died when she fell during a school trip to Italy.
Poonam Bhattal, 13, from Langley, Slough, was a pupil at Guru Nanak Sikh Academy in Hayes, west London.
Skibound, which organised the trip, said she was involved in an incident on a chair-lift on Friday in Claviere.
The director of the ski school at the resort has said the safety bar on the lift was down when the girl fell.
'Beautiful girl'
Speaking on BBC Radio Berkshire, Marco Steffanini said: "Now there is an investigation in progress to understand how she can fall down with the safety bar closed."
He also said she fell down "standing up".
"Before she fell down she was grabbing for the safety bar and the men [operating] the lift saw this, stopped the lift... but it was too late," he added.
Tributes have been paid to the girl by friends on Twitter.
One user, @jaskiretxo, said: "Poonam Bhattal a beautiful girl who we were all so lucky to have known."
Another, @TharanVirdi, said: "Poonam, You will be dearly missed, thoughts and prayers go out to your family."
'Everything possible'
A friend of the girl, @SashaStrikerx0x, said on Twitter: "Oh My RIP Poonam Bhattal.... God Take Care Of You Now.
"Life taken away before your marriage? Before your job? Before kids?... Cherish the moments you have."
In a statement, the school's principal, Rajinder Singh Sandhu, said the half-term excursion was led by the vice principal of the school with the help of two assistant head teachers and "a massively experienced team of eight staff".
He said the school was "doing everything possible to support the family in any way".
Speaking on BBC News, Mr Sandhu paid tribute to a "high achieving student".
He said she was always keen to participate in a lot of the charity work organised through the school.
Skibound said Poonam was pronounced dead at 09:30 CET (08:30 GMT) on Friday on the way to hospital.
The firm said it was liaising with the school, the Foreign and Commonwealth Office and the British Embassy in Italy.
The school party had been on a seven-day trip to Claviere. The ski resort is on the Italian border with France, about 50 miles (80km) west of Turin.