Coma cyclist Mary Bowers' father wants hands-free device ban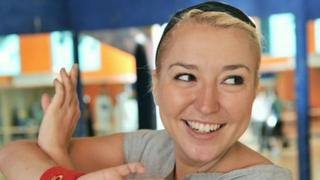 The father of a cyclist who was left in a coma after she was knocked off her bike has said using hands-free devices while driving should be banned.
Times journalist Mary Bowers was cycling to work in London when she was struck by a lorry in November 2011.
The driver was using a hands-free mobile phone and did not see Miss Bowers in front of his truck.
Her father Peter Bowers, from East Malling in Kent, claimed hands-free devices distracted drivers.
Cambridge history graduate Miss Bowers, a gifted musician, cannot move or speak and faces spending the rest of her life in a nursing home.
'Little difference'
In December, lorry driver Petre Beiu, 40, was found not guilty of dangerous driving but convicted of careless driving at Snaresbrook Crown Court.
He was fined £2,700 and banned from driving for eight months.
It is illegal in the UK to ride a motorcycle or drive using a hand-held phone with offenders facing disqualification or a fine of up to £2,500.
It is legal to use hands-free phones, sat-navs and two-way radios while driving or riding but the police have the power to stop and penalise users they think are distracted and not in control of the vehicle.
Mr Bowers said he thought the less serious charge of careless driving over the crash which injured his daughter sent the wrong message.
"Although it is legal to use a hands-free set at the moment, the research shows that actually, in terms of distraction, there is very little difference between a hand-held mobile phone and a hands-free one," he said.
The Times newspaper launched a cycle safety campaign following the incident.
A spokeswoman for the Department for Transport said: "Driving needs concentration and motorists must be in proper control of their vehicle at all times.
"If they are not, they risk putting lives at risk and will face prosecution.
"The government recently introduced a new offence of causing serious injury by dangerous driving - carrying a maximum penalty of five years in prison."