Wisbech fish and chip fighter fined for police 'lie'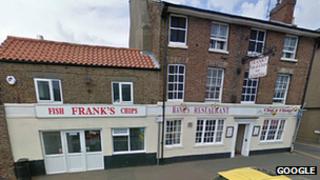 A pub landlord who said he fought off four muggers while holding fish and chips has been fined for lying to officers, police said.
John Wood, 37, said he was stabbed with a screwdriver near Frank's fish and chip shop in Wisbech, Cambridgeshire.
He was fined £80 for wasting police time, Cambridgeshire Police said.
Mr Wood insisted "the attack did happen" but he withdrew his statement when police asked if his fiancee had attacked him or he had "self-harmed".
'Had enough'
He said: "They fined me £80 because I said I wanted to withdraw my statement.
"I wanted to withdraw the statement because they were beginning to question whether my fiancee had done it. Then they said 'was it you who was self-harming?' I'd just had enough of it.
"The attack did happen but because they (the police) didn't have a camera pointing at that exact spot it was a case that they were saying it didn't happen."
Det Insp Dave Murphy said: "This man not only wasted police time, but he also raised the fear of crime in the local community.
"I hope this serves as a lesson to anyone who thinks they can lie to the police and get away with it."
Mr Wood, who runs a pub in Marshland St James, Norfolk, was fined on Tuesday, police said.
'Kick in knees'
Previously he had claimed he was approached by four young men as he walked down an alleyway close to Lynn Road at about 21:00 GMT on 7 February.
"They said, 'We want your wallet' and then my phone rang and they said, 'We'll have your phone as well'," he said.
"I said, 'If you want it, you'll have to come and get it'."
He said he managed to kick the first two men in the knees and, using one hand, fought off the third.
A fourth man then stabbed him in his chest but he said he wrestled the screwdriver off him before throwing it away.