Violin teacher Frances Andrade 'let down by court system'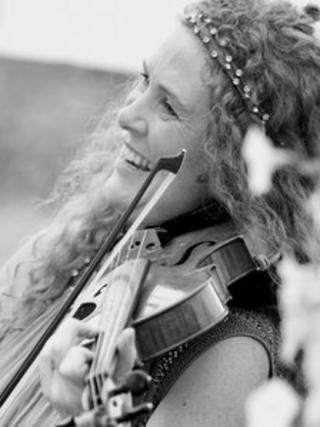 The family of a violin teacher believed to have taken her life during the trial of a man who sexually abused her have said "the court system let her down".
Frances Andrade was found dead less than a week after she gave evidence against Michael Brewer and his ex-wife Kay Brewer at Manchester Crown Court.
Her son said she was, during the trial, forced to relive the many times the choir director had sexually abused her.
The Crown Prosecution Service said it had tried to help her through the case.
And the judge said the barrister who questioned her could not be criticised.
Speaking at the end of the trial, Judge Martin Rutland praised all counsel for their conduct in the case, including Kate Blackwell QC, defending Michael Brewer, who cross-examined Mrs Andrade.
He told her: "You did your job, in that you put what had to be put to the witness."
Mrs Andrade, who lived in Guildford, Surrey, was accepted as a pupil at Chetham's School of Music in Manchester in the 1970s.
When she became disruptive in class, she was referred to see a psychiatrist and it was decided she should go to live with the Brewers at their home in Chorlton, Manchester.
'Liar and fantasist'
During the trial, the violinist said it was the family she had always wanted.
However, she alleged Brewer was sexually abusing her at the time, both at school and in his house.
Michael Brewer, 68, and Hilary Brewer, 67, also known as Kay, were found guilty of sexually abusing Mrs Andrade when she was 14 and 15.
Brewer was cleared of raping the victim when she was 18 and Mrs Brewer was cleared of aiding and abetting rape.
Mrs Andrade's son, Oliver, said being called a "liar" and a "fantasist" at the court was "more than even she could bear".
He also revealed she had previously attempted to kill herself.
He said she had been advised by the police not to receive therapy until the end of the case - which he said meant she did not get the help she needed.
Mr Andrade added that although his mother had praised the work of the police, the court system meant the Brewers had more than a year to prepare for the case yet she did not.
"Being a case of the Crown Prosecution Service they had a barrister and she was simply the complainant, not meeting him until the day of the case and talking for a scant 10 minutes outside of the court," he said.
"This all meant that during the case she was unfamiliar with the process, unsure of what either barrister was trying to do and exceptionally uncomfortable throughout the entire thing."
'Very difficult balance'
Greater Manchester Police's Det Ch Supt Mary Doyle said it was the force's "policy and practice to encourage victims to seek whatever support they need".
"The advice to Frances not to seek support may have been given by another party but it was not the advice of Greater Manchester Police," she said.
"Victims who have suffered sexual abuse have every right to seek whatever help they need."
Speaking about the case, chairman of the Bar Maura McGowan QC said: "There is sometimes a very difficult balance to strike between protecting vulnerable witnesses and properly testing evidence so that juries are able to make informed decisions.
"We must always do everything we can to ensure we get that balance right."
The Crown Prosecution Service said Mrs Andrade had agreed to give evidence in court and had restated her willingness to do so on several occasions both before and during the trial.
It said in a statement that she was also consulted before the Brewers were charged, and that a dedicated witness care officer was assigned to explain the trial process.
And the CPS also said prosecutor Peter Cadwallader was selected for his skill in handling sensitive cases, adding that it had applied for special measures to shield Mrs Andrade in court.
Protecting witnesses
However, she declined to use them so she could face the defendants, the CPS said.
And she confirmed her choice to not adopt these special measures in a conversation with the prosecutor immediately before she gave evidence, it added.
Chief executive of Victim Support Javed Khan said lawyers and judges had to play their part in protecting vulnerable witnesses.
"They must ensure that victims and witnesses are treated with great care in the courtroom examinations," he said.
"Barristers must have sensitivity towards their witnesses; it should be part of their core training.
"Witness vulnerability must be identified and supported early."
Mrs Andrade's death was revealed in court on 24 January while the jury was not present.
A day earlier, the jury was directed by the judge to record not guilty verdicts on five counts of indecent assault against Brewer, due to insufficient evidence about how old the complainant was at the time of the allegations.
Judge Rutland put a temporary ban on reporting the death while the trial continued and kept it from jurors until after it had concluded.