Man denies fraud charge over Saad al-Hilli accounts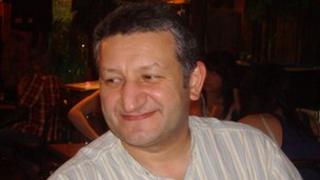 A man has denied trying to defraud the bank accounts of an engineer murdered in the French Alps.
Abiodun David John, 33, from Salford, is on trial at Guildford Crown Court charged with eight counts of fraud, four of which relate to Saad al-Hilli.
The 50-year-old, from Claygate, was shot dead with his wife, mother-in-law and a cyclist on 5 September.
Mr John was remanded in custody with a trial expected in March or April.
It is alleged he tried to open an Amazon account in the name of Mr al-Hilli and sought to use the dead man's HSBC and Royal Bank of Scotland cards.
In addition he is charged with four offences of fraud involving the use of the names of three other individuals.
Surrey Police said the fraud charges are not linked to the investigation into the murder of the Iraqi-born engineer.
Mr John was told his trial will take place in March or April.