Eastleigh by-election a grudge match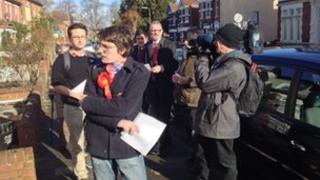 So now we know. Eastleigh voters will go to the polls on Thursday, 28 February.
A short sharp three-week campaign, even before the resigning MP Chris Huhne has been sentenced for perverting the course of justice.
And both coalition parties say they will be throwing the kitchen sink at the contest.
The Liberal Democrats are highlighting tax and jobs as their unique selling point over their Conservative partners.
The gloves are coming off on tax avoidance by millionaires and corporations and Nick Clegg will renew calls for a mansion tax.
There's an acknowledgement that the economic recovery hasn't happened as planned, and a call for more help for those who earn least.
It was Liberal Democrat strategist Chris Rennard who first pointed out an unusual fact about the Eastleigh constituency after the local election results last May.
It is now the only constituency in the country where every local authority councillor, at district and county level, comes from one party.
And that party is the Liberal Democrats.
'Not a protest vote'
It's a strange fact, and a sign of the scale of the task ahead of the Conservatives at the Eastleigh by-election.
Even after the bad headlines over MP Chris Huhne's toxic cocktail of marriage break-up and speeding fine charges the Lib Dem vote increased at last May's local elections.
The leader of the Eastleigh Borough Council, Liberal Democrat Keith House, says "We took the last Labour seat in 2011, whilst in government, just after the tuition fees vote, so we're not just a protest vote, far from it."
Mr House points out that analysing the vote for police commissioner in the Eastleigh constituency a Liberal Democrat topped the vote.
He says party members from as far as Oxford and Dorset have been offering to campaign in the Hampshire Town. They see the by-election as a chance to settle scores with Conservatives.
But Keith House denies that Liberal Democrats have capitalised on local opposition to coalition policies.
"I think we've been on message if you look through Liberal Democrat leaflets we've been putting through doors. But we're not afraid to criticise Conservatives. We're much more pro moving forward with investment in infrastructure than them, and it matters to people."
Industrial jobs
The local council has backed a controversial plan to put £38m into the building of a five star hotel at Hampshire's Cricket Ground, the Ageas Bowl, to provide local jobs.
UKIP's candidate at the last election, Ray Finch, says the economy is key to their pitch to local people.
"My son is 22, he was made redundant two years ago from his apprenticeship but he can't get a job - not stacking shelves at Tesco or anything."
He points out that one of the last big industrial employers in the constituency - the Ford Transit van factory - has taken EU grants and moved production to Turkey.
"It was paid for with our money. We're paying for our jobs to be taken off us and given to Turkey, in what possible way could that make sense?
"Eastleigh was a great manufacturing town, there were jobs and a future for people and now there's nothing.
"A lot of it is tied into immigration, the low skilled jobs are taken, by very nice people generally, from Eastern Europe. They've covered that jobs market. We're starting to lose any form of working class, we have no future unless we change things."
Labour know that the loss of Eastleigh's place as a railway town, and other blue-collar employers like the Pirelli factory, means they have to change their appeal.
Neighbouring Southampton Labour MP John Denham says "Labour is fighting this seat very hard indeed, but this is a tough ask for us. We start with one vote in ten, but we know there are tens of thousands who put their trust in either Liberal Democrats or the Tories and now feel let down."
Conservative Anger
So what of the scandal that started all this?
Jerry Hall, chairman of Eastleigh Conservative Association, says the Huhne resignation must affect the vote.
"It's being going on for so long now, people feel angry that they've been misled."
The by-election is a grudge match for Conservatives too. Mr Hall believes that however strong the vote for their coalition partners in local elections, people vote differently for an MP.
"Although we're partners in the government I haven't seen any transfer of the love interest locally - we fight for every single vote."
And he's not worried about the challenge from UKIP.
"In all our canvassing and polling UKIP take votes from everybody - it's not a surprise to find a committed local Democrat say they'll vote for UKIP in a general election."
Jerry Hall says no punches will be pulled as Conservatives turn on their coalition partners.
"It's vital that there's a Conservative here - we want to govern alone and shake off the handcuffs of the coalition."