Cambridgeshire and Suffolk fire service merger on hold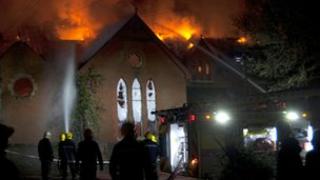 Plans for a full merger between Cambridgeshire and Suffolk's fire services have been put on hold.
The two fire authorities, who are both facing 12% cuts to their budgets over four years, had considered joining up in the hope of saving money.
But Fred Brown, chairman of Cambridgeshire and Peterborough Fire Authority, said a business case was yet to be completed.
"The next realistic timescale for a full merger would be 2016/17," he said.
Mr Brown said he was confident the merger would be looked at in more detail following the next general election, when the Parliamentary schedule was less "crammed".
He said the current sharing of a control room had proved the two services can work together.
He added: "I can't see any reason why, in the fullness of time, we can't progress that to the next stage.
"I think the appetite for fire services to do further collaborations and back office mergers has got to be progressed whatever the flavour of government.
"Finances have got to be made to do the maximum delivery on the frontline, and this is all about protecting the frontline for Suffolk and Cambridgeshire."
Suffolk has an annual budget of £22.5m and plans to cut the number of full-time firefighters from 224 to 209.
Cambridgeshire has about 250 full-time firefighters.