Kent, Surrey and Sussex air ambulances carrying blood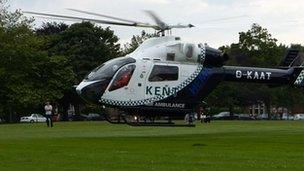 Air ambulances are to hold blood products so they can carry out transfusions during emergency calls.
The Kent, Surrey and Sussex Air Ambulance Trust is launching the new service on Monday.
Blood transfusion equipment on the helicopters has been paid for by the Henry Surtees Foundation set up by ex-F1 world champion John Surtees in memory of his son.
Henry Surtees was 18 when he died during a race at Brands Hatch in 2009.
The air ambulance service said two hospitals in Kent and Surrey would supply the blood and the national motorbike charity, Service by Emergency Rider Volunteers, would transport the blood in and out of hospitals.
A spokeswoman for the service said it was a "major development" that would benefit up to 100 patients a year.
Related Internet Links
The BBC is not responsible for the content of external sites.