Surrey and Sussex NHS gets £400,000 for birthing pools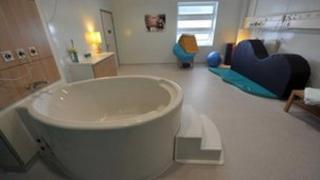 A £400,000 cash boost will see three birthing pools installed in a maternity unit, bringing the total to four.
The funds were allocated to East Surrey Hospital in Redhill as part of a £25m investment programme by the NHS into maternity facilities, NHS chiefs said.
The pools are expected to be installed at the hospital by the end of March.
Surrey and Sussex Healthcare NHS Trust said it had bid for the cash after more than 400 parents filled out surveys supporting the move.
Michelle Cudjoe, head of midwifery, said staff at the hospital delivered about 4,500 babies a year.
She said many women chose water births as a way of helping to manage pain during labour.
One of the pools is to be installed in the area of the unit for use by mothers-to-be facing a high risk of complications during labour, she added.
The hospital provides services to people across parts of Surrey and West Sussex.