Air Ambulance Service's fundraising and spending criticised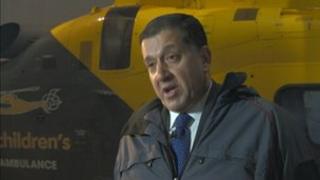 An air ambulance charity has been criticised for both the way it raises its funds and the way it spends them.
The Coventry-based charity became The Air Ambulance Service (TAAS) after launching a national children's service but is yet to transport any youngsters.
A leaked NHS report suggests a whole network of air ambulances would be needed to provide such a national air transfer service for children.
The charity said it expected to begin transporting children by the spring.
The Charity Commission said it was "up to the trustees to manage mergers and fundraising activities", and the charity's operations have not caused concern.
However opponents, including the Dorset and Somerset Air Ambulance service, say the rebrand is causing confusion among people making donations.
And an ex-fundraiser for the charity said funds have been spent on bonuses and celebrities appearances at staff away days.
The charity is one of 16 air ambulance services covering different parts of the country, each raising money in their own patch.
TAAS operates two emergency helicopter services in the Midlands - the Derbyshire, Leicestershire and Rutland Air Ambulance, and the Warwickshire and Northamptonshire Air Ambulance.
Strictly Come Dancing
It launched the national Children's Air Ambulance Service in October.
The NHS report has looked at how a national air transfer service for children can be achieved and who will provide it.
A draft copy, obtained by the BBC, recommends setting up a network of different providers, including regional air ambulances.
Bill Sivewright, chief executive of the Dorset and Somerset Air Ambulance, said the confusion over the Air Ambulance Service lies with whether it provides a national or a more local service.
"It is presenting itself as a nationwide service now when in fact only the Children's Air Ambulance part of that organisation actually has a nationwide role," he said.
"The other two are still regional air ambulances just like ours.
"I would argue that it's quite impractical to expect one air ambulance, one aircraft, to operate from the centre of the country to do a children's retrieval service nationwide."
Barbara Parish, a former fundraiser manager for TAAS, said the rebranding could have an impact on existing services.
"If the opportunity to raise funds for the local air ambulance are diminished there's a real likelihood you'll jeopardise that service and jeopardise people's lives," she said.
'Hard-nosed business'
Ms Parish said she left her job because she was "very unhappy with the way in which the charity was moving".
"It had become a hard-nosed business.
"The balance was swaying tremendously in favour of the upkeep of the charity: salaries, cars, the recruitment of more and more senior personnel."
She also said Strictly Come Dancing stars Anton Du Beke and Erin Boag were invited to give dance lessons at a staff away day, which she claims cost the charity thousands of pounds.
Ms Parish also said some staff were paid performance-related bonuses and she regretted accepting her £3,500 bonus.
Andy Williamson, chief executive of TAAS who is paid between £110,000 and £119,000 according to the charity's latest accounts, said its new name was "a good reflection of what we are actually doing".
"I think there is no confusion whatsoever between different charities.… all the information is freely available," he said.
'No confusion'
"We are looking at whatever services that we need to provide for our staff, for our organisation, because in the end we have to deliver very substantial sums to deliver patient care."
Of hiring Strictly Come Dancing celebrities he said: "Everything's about patients because however many staff we have we need to keep them motivated, we need to keep them focussed on delivering their particular role. That ensures that we deliver that patient care."
The children's helicopter will cost £2m a year to operate.
Mr Williamson said he believed it will have begun transporting children by Spring.
A Charity Commission spokeswoman said concerns had been raised with them about the fundraising and charitable activities of the Children's Air Ambulance in 2010, but they had not had any regulatory concerns since.
She said they contacted the charity in September 2011 to ensure it was making progress to establish an air ambulance and operating in accordance with best fundraising practice.
"The charity informed us that it had taken steps to merge with other air ambulance charities," she said.
Inside Out West, East Midlands, West Midlands and South West are broadcast on Monday, 4 February on BBC One at 19:30 GMT and nationwide on the iPlayer for seven days thereafter.