Rape accused teacher Michael Brewer denies interest in girls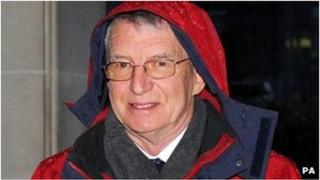 A choir director accused of raping an ex-pupil at Chetham's School of Music in Manchester has denied having a sexual interest in girls.
Michael Brewer, 67, who was awarded the OBE in 1995, is alleged to have abused his position to prey on girls.
Manchester Crown Court heard he "could not keep his hands off" at least two girls and propositioned a third.
Mr Brewer, of Swarthmore Road, Selly Oak, Birmingham, denies rape and eight counts of indecent assault.
The father of four, honoured by the Queen for services to music, is on trial over allegations relating to one girl, but the other two have given evidence against him.
Wife accused
He is accused of committing a string of indecent assaults against an underage girl at Chetham's more than 30 years ago and is also said to have raped her when she was 18 in the presence of his ex-wife, Hilary, also 67.
Mrs Brewer, of Knowl Gap Avenue, Rossendale, Lancashire, is also on trial and denies one count of indecent assault and aiding and abetting rape.
The alleged victim was molested by Mr Brewer from the age of 14, in his school office and elsewhere, beginning with hugging before progressing to indecent assaults and oral sex, the court heard.
The "vulnerable" youngster was described as highly strung and wilful with a troubled childhood, but was a "hugely gifted musician" who craved love and attention.
Peter Cadwallader, prosecuting, told the jury Mr Brewer acted improperly towards the two other female pupils, years after the alleged victim left the school.
He was forced to resign from Chetham's after an inappropriate relationship with a 17-year-old girl came to light, the court heard.
Mr Brewer said at the age of 49 he fell in love with the girl and felt "desolate" when she ended the relationship.
World choir director
The prosecutor pointed out to the jury the similarities between what the rape victim alleged in the witness box and the evidence of the witness who had had a relationship with the defendant.
"That is exactly as it happened with the victim. Step by step," Mr Cadwallader told Mr Brewer.
"Nothing happened with me and her in the office," Mr Brewer replied.
The prosecutor continued: "Are you sexually attracted to schoolgirls?"
"No sir," the defendant replied.
Mr Brewer went on to become the artistic director of the National Youth Choirs of Britain and also directed the World Youth Choir after he resigned from Chetham's.
The trial continues.