Gang who stole £715,000-worth of cables is jailed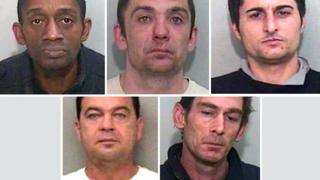 A gang of six men who stole telephone and railway cables worth almost £715,000 has been jailed.
Blackfriars Crown Court heard the men took the cables from various locations.
Christopher Cruz, 33, Kris Kreuder, 36, Shaun Nembhard, 44, and John Michael Newton, 36, all from Basildon, Essex, pleaded guilty to conspiracy to steal.
Bill Lee, 60, who is already serving a jail sentence, made the same plea, as did Simon Scott, 45, who is of no fixed address but is from Leeds.
Naheed Hussain, CPS London deputy chief crown prosecutor, said on Tuesday at the conclusion of the case: "This is the largest investigation of its kind and involved the theft of more than 10,000 metres of copper cable from London, Hertfordshire, Essex, Buckinghamshire and Leicestershire."
The attacks took place between 1 May and 30 August 2011.
'Anything but victimless'
British Transport Police said the thieves cost Network Rail and BT almost £715,000 to replace and repair the cables, as well as fines incurred to train operators as a result of delays, disruptions and cancellations.
Sgt Joe McClenaghan, the investigating officer, said: "This type of crime... is anything but victimless, and we will do everything in our power to bring them to justice."
Simon Davies, general manager for cable and payphone crime in BT, said: "This gang had complete disregard for the disruption caused to other peoples' lives by their criminal activities."
Four of the men lived in Basildon. Cruz, of Mellow Purgess Close, was sentenced to three years and nine months, Nembhard, of Coopersales, was sentenced to two years and three months and Kreuder, of Elizabeth Way, to a year and four months.
Lee was sentenced to two years, while Scott was sentenced to three years and six months.
Newton, from Newburyside, will be sentenced at a later date.