Concern over guide dog attacks in south-west England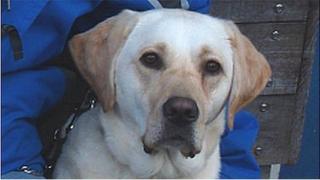 Guide dog owner Robert Boon's Labrador, Wag, was attacked by a Staffordshire bull terrier in Torbay.
Mr Boon said the terrier was out of control and he felt its teeth slide along his hand as it went to attack his dog.
"I saw the Staffie run towards my dog, heading straight towards her head," he said.
Mr Boon pulled Wag out of the way and ended up in the middle of Abbey Road in Torquay.
He was helped back onto the pavement by passers-by.
Mr Boon said the two men retrieved their Staffordshire bull terrier and left laughing at what had happened.
The Guide Dogs for the Blind Association said it was not an isolated incident in the south west of England, with three attacks reported in 2011, five in 2012 and two so far in 2013.
A spokesman said the attacks were "probably the tip of the iceberg" as not all were reported by owners.
He added that nationally, the number of attacks had increased since 2010 from an average of three per month to eight.
'Child to me'
It costs about £50,000 to train and support a guide dog throughout its life.
The association had feared that Wag, who was very nervous after the attack, would have to stop working as a guide dog.
Mr Boon said: "If she was seriously hurt she couldn't work again. One incident could have been the end for her as a guide dog.
"She's like a child to me and she's my life."
Mr Boon was born with defective eyesight and in recent years his ability to see has rapidly declined and he is now registered as blind.
"If I was totally blind the situation would have been a lot more severe," he said.
"They [guide dogs] are placid dogs and don't know how to defend."
Last week, the government announced that every dog owner in England would have to microchip their animal from 2016 under plans intended to cut a rise in strays.
Chief executive of the association Richard Leaman said: "Compulsory micro chipping promotes responsible dog ownership and gives the police an effective tool to identify a dog's owner and hold them responsible for their dog's behaviour."
Alun Gwernan-Jones, from the association, said: "Many of our dogs have had to retire early following dog attacks.
"We believe that asking the police to treat dog attacks on assistance dogs as seriously as they would do if a dog attacked a human would really help concentrate dog owners' minds on keeping their pets under proper control when out in public."
Devon and Cornwall Police said because it was a matter of legislation, it declined to comment.
Assistant Chief Constable Gareth Pritchard, from the Association of Chief Police Officers, said: "We are seeking to improve the way police officers deal with attacks on assistance dogs and we have made our concerns known to Defra.
"We continue to be concerned about these attacks and are working with association to improve how we deal with these serious circumstances."
Defra is yet to comment.
'No price'
Mr Gwernan-Jones added that there was a "huge psychological impact" on owners following a guide dog attack.
The Guide Dogs for the Blind Association and Mr Boon have been working to rebuild Wag's confidence.
"People don't realise how important guide dogs are," said Mr Boon. "She's absolutely unbelievably important to day-to-day life. She's given me my independence.
"You can't put a price on a guide dog."