Epsom and Ashford and St Peter's 'should keep talking'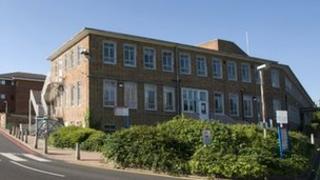 Two hospital trusts in Surrey have been urged to carry on talking despite a merger being halted by NHS bosses.
Ashford and St Peter's Hospitals NHS Trust was named as the preferred partner for Epsom Hospital last year until NHS London halted the plan.
Now Nick Skellett, chairman of Surrey County Council's (SCC) health scrutiny committee, has said: "Let's see if they can share management and efficiencies."
A spokeswoman for Epsom Hospital said the way forward was unclear.
NHS London halted the merger because it said the two trusts had been unable to develop a financially viable plan.
Maternity services
SCC's scrutiny committee was told on Thursday the merged hospitals would not have broken even within five years.
It also heard the aborted merger had cost £2.7m.
Epsom Hospital has now been drawn into NHS South West London's Better Services Better Value (BSBV) review, which is also looking at the future of St Helier, Kingston, Croydon and St George's hospitals in south-west London.
The latest proposal is that only three of the hospitals will keep A&E and maternity services.
Mr Skellett said he had real concerns about the way the merger was halted.
"It does appear that because Epsom was in Surrey, the London interests stopped the merger taking place," he said.
"It seems as though the process was flawed and I think we had better start again.
"The first thing is to ask Ashford and St Peter's and Epsom to start talking with each other to see what can be done.
"If it is left to London to make the decisions it is fairly clear they want to remove Epsom as an acute site but possibly have a minor injuries walk-in centre."
Epsom and St Helier University Hospitals NHS Trust said it was continuing to work with Ashford and St Peter's but not "at the level the chairman has referred to".
"We are working together to find a way forward but that is a bit unclear at the moment," said a spokeswoman.
BSBV medical director Michael Bailey has said further work needs to be done to determine whether its recommendations could work in practice.
No changes will be made until 2017 at the earliest, and final proposals will be subject to a 12-week consultation.