Former Army officer Robert Jolleys guilty of school fee fraud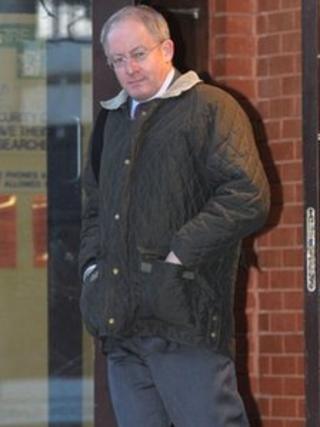 A former Army officer has been found guilty of defrauding taxpayers by claiming more than £180,000 to send his children to a private school.
Robert Henry Jolleys, 52, of Woodlands Park, Clitheroe, claimed the money to send his three children to the town's Roman Catholic Stonyhurst College.
Swindon Crown Court heard he was not entitled to claim because he was separated from his wife.
Mr Jolleys had denied 11 counts of fraud, deception and forgery.
He was found guilty of three counts of obtaining a money transfer by deception, three of fraud and one of forgery.
He was acquitted of one count of obtaining a money transfer by deception and the jury was discharged from considering verdicts on a further charge of obtaining a money transfer by deception and two counts of forgery.
Jolleys' convictions related to claims totalling £188,063.11 between April 2004 and December 2009.
'Broad rules'
The court heard he had been legitimately claiming continuing education allowance, which allows service personnel to send their children to boarding school to prevent disruption to schooling, until he separated from his wife.
He had been accused of not informing his superiors of the split, which created a change in his circumstances and meant he could no longer received the allowance.
Under cross-examination, Jolleys accepted he knew the "broad rules" around claiming the allowance but maintained he and his now ex-wife had not separated when he was posted from London to North Yorkshire in 2002.
The prosecution had alleged he had been fraudulently claiming money since 2002 but the jury only convicted him of offences from 2004 onwards.
Jolleys was released on conditional bail ahead of sentencing, which is due to take place in March.
Recorder Jeremy Wright said his release was "no indication of the likely result" of sentencing.
"I think you can deduce the likely result having regard for the large sums of money involved," he said.