Snow set to hit south-west and north-east England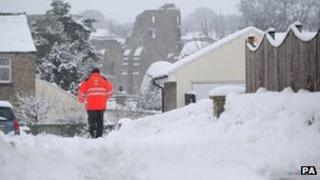 Icy conditions have led to train and flight cancellations across England, with warnings of further disruption caused by the severe weather.
Hundreds of schools also remain closed as further snowfall is predicted in the South West and North East later.
The A38(M) Aston Expressway in Birmingham was closed in both directions earlier, between Dartmouth Circus and the M6, because of ice.
The Met Office has warned of icy stretches "just about anywhere".
Up to 5cm (2in) of snow is likely in parts of the South West with the threat of anything up to 10cm (4in) on high ground, the Met Office said.
'Serious crash'
It has issued an amber warning of snow for parts of the region including the Bristol area.
Emergency services in Devon were called to a serious crash earlier after several vehicles spun off the road near Plymouth.
A man is critically ill following the crash, which happened on the A38 between the Manadon and Marsh Mills junctions of the Exeter-bound carriageway shortly before 06:00 GMT.
A Devon and Cornwall Police spokesman said: "Officers at the scene believe that the freezing road conditions may be a contributory factor and are warning motorists to slow down when using any of the roads in the area."
Further collisions on the approach to the crash scene also added to the congestion, the spokesman added.
A man was killed in another weather-related incident when the car he was driving left the road and crashed into a tree on the A12 in Essex on Monday night.
Elsewhere, tributes have been paid to a "quiet, friendly" postman who died on Exmoor in thick snow on Saturday. John Bircham, 57, collapsed as he neared the end of his round in Dulverton, Royal Mail confirmed on Monday.
In Middlesbrough, a teenager remains critically ill in hospital after being injured while sledging.
Parishioners are assessing the damage to a church in Cornwall which was hit by lightning. Pillaton Church was struck during a "tremendous thunderstorm" at about 23:30 GMT on Monday.
Bell ringing captain Richard Warwick said: "One of the four pinnacles on the roof, which weigh several tonnes, has exploded and the main part of it has made a huge gaping hole in the body of the main church."
'Cancelled flights'
Eurostar cancelled some services and warned passengers to expect delays of up to an hour as speed restrictions were imposed as a result of snow and ice.
Other rail operators including Gatwick Express and Southeastern also reported cancellations and revised timetables.
Buses replaced trains between Dover Priory and Faversham, extending journey times by 45 minutes.
Heathrow Airport said it was fully operational but some disruption was expected because of weather conditions at other airports in the UK and across Europe.
More than 200 flights were cancelled at Heathrow Airport on Monday.
Gatwick, Birmingham, East Midlands and Manchester airports also returned to a normal service after snow and ice caused disruption to flights on Monday.
BBC weather forecaster Nick Miller said: "The snow is not as widespread as it was yesterday.
"Ice and snow will continue to disrupt travel."
Overnight temperatures fell to -11.3C in Buckinghamshire.
Part of the A57 Snake Pass in Derbyshire and a section of the A68 in Corbridge, Northumberland, were closed because of snow.
The A66 in Cumbria reopened on Tuesday morning but the A686 Hartside Pass remained closed.
The Highways Agency said its 500-strong fleet of snow ploughs and salt spreaders would continue to treat the road network.
Steve Crosthwaite, of the National Traffic Operations Centre, said: "We have more than 200 weather stations situated at key points around the network, and we work closely with the Met Office when making our operational decisions to help keep people moving and safe in this winter weather.
"We have already covered more than one million miles and we will carry on treating the network whenever there is a risk of ice or snow."
Staffordshire County Council said it had already overspent its £2.7m gritting budget. The authority said it had used more than 5,000 tonnes of salt in the past week and the overspend was a result of vehicle maintenance and labour costs.
Head of highways Ian Turner said: "We can't really claw the money back but we also can't get to a point where we've spent the budget and we aren't going to do anymore."