Rail disruption 'unacceptable' resilience forum says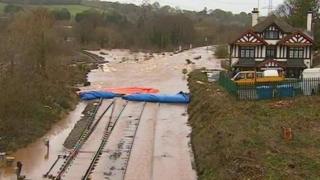 A group of Devon and Cornwall's emergency services, hospitals, councils, and other public bodies has asked the government for urgent action to protect the region's main rail line.
Flooding closed the line in November and again four weeks later in December.
Devon and Cornwall Local Resilience Forum described the disruption to services as "simply unacceptable".
It has written to the government to call for flood defences built at Cowley Bridge, just outside Exeter.
Economic concerns
In December the line was closed for a week causing extensive disruption for holiday travellers, after the nearby River Exe burst its banks due to heavy rain.
The BBC has learnt the forum resolved to write to the government, asking it to urge Network Rail to establish flood defences at Cowley Bridge.
A source connected to the forum said it was considered a "matter of urgency" by the group.
The move has been welcomed by business organisations and passenger groups, who both described the rail link as "strategically vital" for Devon and Cornwall.
Labour Exeter MP Ben Bradshaw said problems had to be dealt with before they caused more than just difficulties for passengers.
He said: "Network Rail has to address the weaknesses where the railway is currently vulnerable to unacceptable flooding.
"It is unacceptable because it is not just inconvenient for passengers, but it's really serious for the economy of the South West.
"If you're an outside investor looking to set up a factory, and you can't guarantee that the transport network is reliable, that is going to be a very significant part of your consideration."
Network Rail told the BBC it was fully aware of the problems with the line at Cowley Bridge and was working on a solution.
A spokesman said it was expected to be designated a priority scheme.
The operator said it was looking at ways to put signalling equipment and electrics on stilts so they are not affected by flooding.
Transport Minister Norman Baker has promised to put pressure on Network Rail to make long-term improvements at Cowley Bridge.