Everton fan guilty of racist abuse at Loftus Road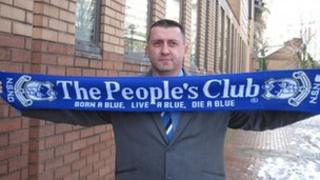 An Everton fan has been found guilty of racially abusing two Premier League footballers.
William Blything shouted abuse at Queens Park Rangers' Korean captain Park Ji-Sung and Everton forward Victor Anichebe at Loftus Road on 21 October.
The 42-year-old, of Moss Pits Lane, Wavertree, Liverpool, had denied racially-aggravated intentional harassment, alarm or distress.
He was found guilty at West London Magistrates' Court.
District Judge Jeremy Coleman said the defendant would not face a custodial penalty when he is sentenced on 11 February.
The court heard Blything was arrested after two fellow Everton fans reported him to stewards.
They had seen him watching the game with his wife, 16-year-old daughter, 11-year-old son and three-year-old grandson.
'Man up'
Giving evidence, Everton fan Neil Jordan said he was "outraged" by the abuse.
He said he first noticed Blything when he made one of his children cry by telling him to "man up" when QPR scored a goal.
He later heard him being racially abusive towards Anichebe, who is originally from Nigeria.
"There was clearly some intent to target that player because, in my opinion, of the colour of his skin, coupled with general agitation and abuse aimed at the home end and abuse towards another opposition player," he said.
Also giving evidence, Everton fan John Murmame said he heard Blything shout abuse at Ji-Sung.
"I go to a lot of football games but this was exceptional," he said.
'Deplorable'
Defending himself, Blything, originally from Southampton, admitted he had used "foul language" but said it had not been racist in nature.
District Judge Coleman said: "If the players had heard these comments - and there is no evidence that they did - it would have caused them upset."
Everton have since barred Blything from attending any of the club's games.
A club spokesperson said: "Clearly this was a deplorable incident.
"The individual involved will now be prevented from entering Goodison or any away grounds until the court sentences him on February 11.
"Once sentencing has been carried out, he can expect a lengthy banning order preventing him from attending any football for a considerable period of time."