Thames Valley Police allows woolly hats for officers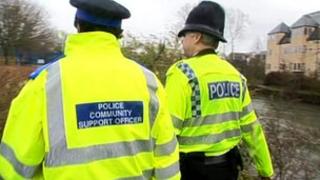 Thames Valley Police officers can now keep warm in the winter weather with a uniform-issue woolly hat.
Officers patrolling or sitting in vehicles will not be able to wear the new woolly hats, but those who have to stand outdoors for long periods will.
The change in uniform comes after officers successfully lobbied the force's Chief Constable Sara Thornton.
The force said the new black-knitted beanie with "Police" embroidered on the front will present a smart image.
'Decent headgear'
The idea for the new item of kit came from PC Lisa Stanhope, Thames Valley Police Federation's health and safety lead.
She said: "When the weather is like it has been recently and you're standing still at a scene until someone comes to relieve you, it can be really cold.
"A flat hat or a bowler just doesn't keep out the cold and officers do complain about not having any decent headgear to keep them warm."
Thames Valley are not the first force in the UK to introduce thermal wear to uniform.
Officers at Devon & Cornwall Police are permitted to wear both woolly hats and snoods should conditions require them.