Police commissioner asks public for crime plan help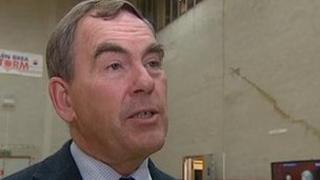 People in Devon and Cornwall are being asked to play a bigger part in reducing crime and to help the area's police commissioner set policing priorities.
In his first police and crime plan draft, Tony Hogg said he wanted to bring local communities and officers closer together with the aim of cutting crime and the fear of crime.
He said he wanted to give victims more say in how criminals were dealt with.
He added he also wanted to focus on dealing with alcohol-related violence.
'Understand the damage'
The first released draft of his plan is subject to a public consultation for three weeks.
He said there were several reasons for wanting to give victims more say in how offenders were punished.
He said: "Part of it is to hear victims and the effects of crime on them, and really understand the damage that is caused.
"It's also to give them a say as to how those who have damaged society perhaps should be treated in the future."
Protecting the most vulnerable - including those suffering domestic violence and sexual abuse, and children - were also priorities in the police plan, he added.
Mr Hogg said he would listen to the public before producing a final version of his plan later in the year.