Welney welcomes wildfowl that fled harsh Arctic weather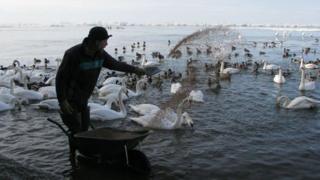 Swans, ducks and wildfowl that fled the harsh winter in their Arctic encounter freezing conditions at a reserve that straddles Norfolk and Cambridgeshire.
About 5,000 whooper swans and 3,000 Bewick's winter at the Welney Wetland Trust near Downham Market.
But much of the open water where they gather has iced up and the discarded sugar beet tops they graze on in surrounding fields are frozen over.
Hundreds of visitors come to the centre in winter to see the swans and wildfowl feeding and to watch the activities of the birds from hides.
Water for preening
But the centre fears if the weather becomes more severe the birds will take off for better habitats further south in Europe.
The birds need open water for drinking and to preen their feathers.
"Fortunately, the largest patch of open water is in front of the observation window where visitors can see the swans and ducks at feeding time," a spokesperson for the centre said.
"There is another stretch further out on the Ouse Washes but we cannot see that from the centre.
"The birds need fresh water for preening and drinking especially in the mornings when they usually fly off to fields in Norfolk and Cambridgeshire to graze.
"But many are staying around the centre to save energy because they are finding that plants are buried beneath the snow and are in frozen ground."
Potatoes, sugar beet heads and other root crop remains are left in local fields and the wintering birds scavenge for them but when they are covered by snow, many are reluctant to stray very far from the reserve.
"They normally take off at dawn to reach feeding grounds as the sun rises and return at dusk. But many are leaving later and getting back earlier," the spokesperson said.
The birds come from Iceland, Scandinavia and the Arctic where the winter weather is very severe.
The wildfowl, which includes shoveler, tufted and wigeon ducks and native coots, also attracts raptor predators such as sparrow hawks, buzzards, barn owls, marsh harriers and occasionally kestrels.
Visitors have also seen lapwing, golden plover, black-tailed godwit, curlew and bittern, the spokesperson said.
Water voles and other rodents can also be seen as well as some garden birds, such as blue and great tits, finches, redwings and fieldfares.