Homeless charities given £3.6m to tackle rough sleeping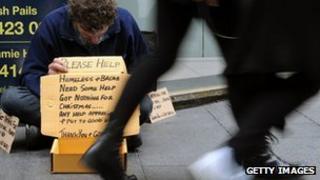 Homeless charities have been given £3.6m from a government fund to tackle rough sleeping in England.
Grants from the Homelessness Transition Fund have been given to 23 charities.
Housing Minister Mark Prisk said these were the latest awards from a £20m fund to ensure that nobody has to spend a second night on the streets.
Midland Heart, a charity working in the West Midlands, said their grant of £170,940 would help rough sleepers "break out of a cycle of homelessness".
The grants range from £200,000 given to charities helping homeless people in Derby and Manchester to almost £83,000 awarded to a scheme in Lowestoft helping people who have become homeless after the decline of the fishing industry in the area.
Two schemes helping homeless people in Sheffield get grants of £176,873 and £87,032.
Almost £16m has been invested so far through the Homelessness Transition Fund to help 85 charities across the country, the government said.
'Damaging and dangerous'
Chris Munday, from Midland Heart, said: "This grant will fund a really important project which enables us to help entrenched rough sleepers to break out of a cycle of homelessness and into sustained accommodation."
He said that by offering "individually tailored support" the charity can help rough sleepers to get back on their feet and ultimately to live independent lives.
According to Homeless Link, a national charity supporting individuals and organisations working directly with homeless people in England, more than 6,000 people have been helped off the streets or away from sleeping rough by the grants made so far.
Sharon Allen, from Homeless Link, said: "Anyone can become homeless and life on the streets is damaging and dangerous."
She said the funding will ensure more rough sleepers get the support they need.
Mr Prisk said: "Nobody should have to face a second night on the streets, and today's cash will mean that local services can ensure no-one has to."