Broadcaster gives personal account of his MS diagnosis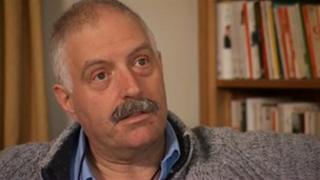 Mark Holdstock has just turned 50.
He's been living with a diagnosis of multiple sclerosis for a year.
He celebrated his birthday because the one thing Mark won't do is give in.
It's been hard for me to produce tonight's film about Mark because I have known him for more than a quarter of a century.
With the best will in the world this was never going to be just another assignment.
Mark had it all. A great career began where we met at Radio Newcastle, but Mark went on to network reporting and eventually he was the voice of Farming Today on Radio 4.
Quality of life
He'd bought a Quayside flat overlooking the Tyne, long before the area was trendy.
He has one of the most spectacular views over the cityscape.
Best of all, he has Jane, his partner for many years.
As Mark reveals, a diagnosis of MS is not just for the patient, but for those around them too.
It attacks the brain and leaves scars which gradually reduce the body's ability to control function.
He has always been frank and direct, and with this it's no different.
He and Jane know that his particular form of MS is aggressive and unstoppable.
He already needs a stick to walk and knows a wheelchair will be needed before long.
Worse still lies ahead.
Slurred speech
I was shocked to learn that he is on no drugs whatsoever.
Unlike other forms of MS where medicines can slow down the deterioration in the body's functions, for Mark there are no periods of remission and little chance of putting off the inevitable.
He lost his job as presenter of Farming Today.
At the time no-one knew that that his need to do more and more takes during recordings and increasingly slurring speech was down to MS.
As his consultant neuroscientist at the RVI Dr Martin Duddy told us during filming, it's unusual for problems with the voice to be the first symptom of MS to emerge.
Mark fears he may lose all ability to speak.
He wondered if he'd been a bad boy - and that had led in some way to his getting MS.
He had smoked in the past and was not exactly one of life's great exercisers.
Dr Duddy reassured him, it was more likely to be genetics at play.
Mark is still writing. As well as being paid to pen articles for publications like The Northern Farmer, he has his own blog.
True to form Mark has provocatively called it The Trainee Cripple.
In it he recounts the day to day challenges of living with MS.
Emotional journey
When he decided to tell his story on Inside Out my boss asked me if I'd produce it for him.
I had worried that with my TV producer head on I might have to push and prod Mark into areas of emotion he might not want to go.
He'd already accepted his broadcasting career is now over, but next he faces giving up the flat he loves so dearly.
It's only accessible by a long flight of steps and his legs are already struggling.
I knew I'd have to ask him to speak about that on camera.
It was difficult but our personal friendship survived the professional one.
I had always admired Mark.
When we first met in 1986 he very kindly let me stay in his flat as I had just moved back to Tyneside and had not yet sorted out anywhere to live.
That kindness is a mark of the man then.
Now the cruelty of the lottery of life has set him an immense challenge.
It's not one I think that I could bear, so it's to his great credit that Mark is facing the future with a smile and a determination to live life to the full as best he can for as long as he can.
Future challenges
Mark Holdstock has written this piece for BBC Inside Out about the challenges he faces living with MS.
"I had achieved just about everything I had wanted to in life, a wonderful wife... although together for a quarter of a century, we've only actually been married for seven years; a home I adore close to Newcastle's Quayside and Tyne Bridge; and a career, latterly as a BBC Radio 4 presenter that I could only dream of.
"Now though, I've lost some of that, and face losing much of the rest as my body degenerates, and my nervous system literally attacks itself.
"Four years ago my bosses at Radio 4's Farming Today programme started to raise concerns that my radio presentation wasn't as good as it should be.
"I was having to go over too many bits of script during programme recordings because of stumbles... I was eventually dropped as a presenter.
"Three years later, a year ago, I discovered what was causing my problems.
"I was diagnosed with a degenerative neurological condition, Multiple Sclerosis (MS). Sclerosis means `scarring', in short the body's own immune system attacks the brain's nerve cells.
"I use the term condition, rather than disease, because this isn't something which can be passed on to others as an infection.
"It's a degenerative condition, because gradually the nerve cells which have lost their protective cover, myelin, cease to function properly.
"In my case one of the first bits of the nervous system to be affected was the bit which controlled my speech, next was the part of the nervous system which controls my balance.
"The prognosis is that my body will, with time, stop functioning properly, my mobility will deteriorate to the point where I will almost certainly need to use a wheelchair. I will need help to dress myself, to eat and probably `bath' myself.
"For the moment the priority is to keep going for as long as I possibly can. My wife Jane is a wonderful support, and my friends mean the world to me and I am really, really grateful for their presence.
"The most immediate loss will be giving up the flat where I live, close to Newcastle's Quayside.
"It's the practicality of it, more than anything else... up a set of steps which would make it inaccessible in a wheelchair. It's only a small flat, and by a cruel twist of fate is completely wheelchair friendly once you're in, it's just getting to the front door that's the problem.
"Having an illness like MS, with the degeneration of the body can concentrate the mind.
"Accumulating wealth and ambition for status, or fame or success are no longer important, or specifically not as important as they once were.... and no I haven't got God, if anything the opposite has happened.
"What has become increasingly important is the value of friendship, and also the realisation that time is a major factor now.
"I'm not terminally ill, but my legs are, and the big fear is that the loss of the use of the legs, which will happen, will curtail the contact with friends.
"In many ways this is a `tale of the unexpected' as nobody, who is otherwise healthy, contemplates the disintegration of their body at a relatively early age of 50."
You can watch Mark's film on BBC Inside Out on BBC One at 19:30 GMT on Monday, 21 January 2013 and nationwide on the iPlayer thereafter,