Snow across England hits travel and closes schools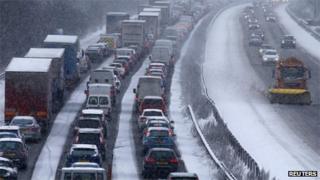 Heavy snow has grounded flights and brought roads and public transport to a standstill in some parts of England
More than 2,000 schools were also closed across the country.
London Heathrow, Birmingham, Bristol and Southampton airports have all been affected, while rail and coach services have been disrupted.
The weather caused some bookmakers to cut the odds of the UK reaching record low temperatures of below -27.2C to just 6/1 from 10/1.
A gritting lorry got stuck at Warminster and an ambulance was trapped in snow at Lyneham in Wiltshire.
Rail operators are running altered timetables, in a bid to keep services operating.
More than 400 schools were closed in Hampshire and more than 300 each in Gloucestershire and Norfolk.
Footprint arrests
Birmingham Airport has suspended all flights until at least 18:00 GMT.
Flights from Bristol Airport continue to face delays after snow earlier closed the runway.
Southampton Airport said its runway would be closed until at least 17:00 GMT.
More than 320 flights were cancelled at London Heathrow while snow and ice was cleared from the runway.
Airport staff said both runways reopened shortly before 14:00 GMT, although delays were likely.
At Gatwick, the runway remained open, with only flights to and from the Channel Islands affected.
Delays have also been reported to flights from Stansted.
Train passengers in central London faced delays of up to an hour to services through Blackfriars station, because of a broken down train.
Sports events have also been affected, with a number of horse racing meetings and football matches cancelled because of the weather - including Friday afternoon's racing on Wolverhampton's all-weather track.
At Ascot, racing has been cancelled on Saturday, with two inches of snow on the track and conditions expected to become worse over the weekend.
A man was arrested for tampering with a vehicle in Rubery, Worcestershire, after West Mercia Police followed footprints in the snow.
West Midlands Police also said footprints in the snow led them to a 17-year-old boy, suspected of throwing bricks at cars.
Wedding by tractor
In Dudley, officers said a dog's snowy paw prints led to them making an arrest for metal theft. Officers who knew they were looking for two men with a dog found footprints and paw prints which they followed for a mile before arresting two suspects.
In Sandwell, 3,700 volunteer snow champions have been out clearing paths, armed with shovels and salt.
In Halesowen, a gritting lorry slid on the snow, hitting a car.
Eyewitness Jonathan Jones said the truck slid off on its own after the crew got out to move a parked car, "narrowly missing pedestrians".
In Telford, event the snowboard and ski centre was forced to close because of the conditions.
Hospitals are preparing for a spike in admissions this weekend as high numbers of people are expected to be injured in falls on icy ground.
Mike Cheshire, medical director of NHS North West, said: "We need everyone to help our A&E and 999 teams by only using them for life-threatening and urgent conditions, such as heart attacks, strokes, breathing problems and serious accidents."
And one couple, from Shropshire, were set to brave the snow in a tractor to get to their wedding.
Jim Jones, 26, and Heather Morris, 24, have been together five years and chose their wedding day more than a year ago. They will wed at Chirbury Church in south-west Shropshire.
Mr Jones told BBC Radio Shropshire: "We've been watching it [the weather forecast] very closely for the last two weeks.
"I was nervous, but I've got other things on my mind", he said.
Empty shelves
Meanwhile, the Highways Agency has advised motorists to check weather forecasts and allow extra time for their journeys.
Dave Kirk, an HGV driver, ended up stuck on the A361 in Devon.
He said: "It's absolutely horrendous. I have been here for three hours and nothing is moving.
"It's snow, snow and more snow. There's not a lot we can do. We have just got to sit here and let them grit the road and get the snow ploughs out."
Some people have reported empty shelves in supermarkets.
Matt Savage, from Whatstandwell, photographed an empty bread aisle at the Ripley branch of Sainsbury's, near Derby.
He said both the bread and vegetable aisles were empty and blamed the situation on "too many people panic buying".
Sainsbury's said while customers were stocking up supplies they had not experienced panic buying.
Richard Dodd of the British Retail Consortium said: "It can be the case that panicking about shortages can cause shortages but most people understand that we've got lots of experience of tough winters."
South West Trains is running a revised timetable on a number of routes. Affected services include London to Bournemouth and Weymouth, London to Salisbury and Portsmouth and London to Reading.
Latest local news, travel and weather
The East Coast train company advised passengers to check before travelling. The company said it would lift ticket restrictions for all journeys on its trains which arrive in, or depart from, King's Cross station in London after 10:00 GMT.
East Coast urged passengers wherever possible to travel before 18:00 GMT on Friday, as heavier snowfalls were predicted after that time.
Southeastern also advised passengers to make checks before setting out. A company spokeswoman said: "Given the weather forecast, there may be disruption on some routes through the day."
In London, contingency plans for Tube services have been put in place.
The enhanced content on this page requires Javascript and Flash Player 9
Map Key
Land
Cloud
Lakes, Rivers & Sea
Fog
Light
Heavy
Frost
Light
Heavy
Pressure Fronts
Cold
Warm
Occluded
Rain
Light
Heavy
Extreme
Snow
Light
Heavy
Temperature tab only
Temperature (°C)
More details from BBC Weather