North East hospital A&E wards 'under strain'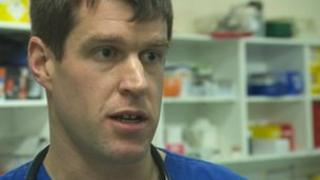 Accident and emergency wards in the North East are struggling to cope with patient numbers, the BBC has learned.
Visits to A&E units in the region have increased by 20% in the last four years, an Inside Out investigation found.
Nursing staff have previously reported "unprecedented demand" this winter.
The North East Ambulance Service (NEAS) said it was working with all hospitals to "ensure patients arrive and are admitted as quickly as possible".
Inside Out visited A&E at North Tees Hospital in Stockton-on-Tees and found staff being called to emergencies as soon as they arrived for work.
Handover times
Dr Ross Moy said staff worked under pressure throughout their shift.
"You're constantly aware that there are more patients arriving than you can safely manage," he said.
"You're constantly worrying about not what you have to do but what you know is coming in."
Earlier this month the Royal College of Nursing said hospitals were facing "unprecedented demand".
In December, James Cook University Hospital in Middlesbrough appealed to the public to avoid using A&E if at all possible and operations were cancelled at South Tyneside Hospital due to "high demand".
South Tees Hospitals NHS Foundation Trust said it was working closely with colleagues from ambulance services across the region to minimise handover times.
Director of operational services Susan Watson said: "Hospitals across the whole of the North East have been exceptionally busy in recent weeks as they deal with a real surge in demand from very sick patients.
"Our trust is no exception and there has been an increase in the number of patients coming into our accident and emergency departments and being admitted onto the wards.
"This means, at times, there have been some delays with ambulance handovers which is frustrating not only for patients and their families, but also for both hospital and ambulance staff whose first priority is the patient."
NEAS reported 113 "serious incidents" between 1 December 2012 and 13 January when ambulances experienced a wait of two hours or more before a patient is seen.
A serious incident does not infer any risk to a patient as those with the most serious needs are seen first.
Former paramedic Alan Smart told Inside Out he believed patients' lives were being put at risk.
He said: "If it becomes as bad as it has been over the last 10 years then I don't think the ambulance service or the hospitals will be able to cope.
Priority patients
"It will just be swamped."
Inside Out spoke to patients with concerns about decreasing numbers of A&E units with further restructures expected when new hospitals open in Wynyard on Teesside and Cramlington in Northumberland.
In a statement, NEAS said: "Any re-organisation of how we work is taken holistically.
"It's important to note that arriving at hospital by ambulance does not mean a patient will automatically be seen quicker.
"Patients with the most serious needs will always be attended to first, regardless of how they reached A&E."
Inside Out is on BBC One at 19:30 GMT on Monday across the North East and Cumbria.