Festive drink-drive figures up in Durham and Cleveland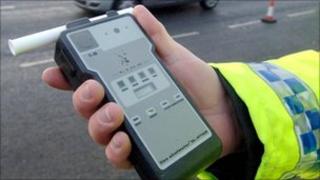 A "hard core" of people continued to flout drink driving laws over the festive period, figures from Durham and Cleveland Police show.
Out of 3,250 drivers tested during December in a joint operation across the two force areas, 96 were positive or failed to provide a sample - 2.95%.
During the same period 12 months ago the level of positive tests was 2.9%.
A spokesman said it was "disappointing" that a number of drivers believed it was acceptable to drink and drive.
'Extremely selfish'
During the same campaign last year, a total of 4,145 drivers were breathalysed and 119 (2.9%) people tested positive or failed to provide a sample of breath.
A Cleveland Police spokeswoman said: "Whilst it is pleasing to see that the majority of drivers have listened to our warnings, there are a number of people who, disappointingly, still believe it is acceptable to drink and drive.
"It is completely unacceptable, dangerous and extremely selfish to get behind the wheel of a car when under the influence of drink of drugs.
"Those identified through our campaign will now face the consequences of their actions."
A Durham force spokesman added: "Unfortunately, there is still a small but significant number who seem to think they can take risks with their own lives, and those of others by driving under the influence.
"A number of those caught were tested in the morning, when alcohol was still in their body."