Keanu Williams's mother and boyfriend 'in it together'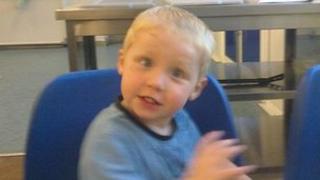 A mother and her boyfriend accused of murdering her two-year-old son were "in it together", a jury has been told.
Toddler Keanu Williams died in January 2011 after being found with head and chest injuries in Ward End, Birmingham.
The prosecution told Birmingham Crown Court that neither defendant "lifted a finger" to help him until he was dead.
His mother Rebecca Shuttleworth, 24, of Cottingham Road, Manchester, and Luke Southerton, 31, of Hagley Road, Birmingham, deny murdering Keanu.
The pair also deny causing or allowing the death of a child and a charge of cruelty to a child aged under 16.
Admitted biting
Ms Shuttleworth denies a separate child cruelty charge against a different child.
Christopher Hotten QC, prosecuting, said: "It matters not who did what that weekend, both of them beat and abused Keanu, both are in it together, neither lifted a finger to help until he was dead."
He asked the jury put their emotions to one side and take "a long cold look at the evidence in this case".
The jury heard in an interview with the police Ms Shuttleworth said she didn't know how the fatal injuries had happened.
The prosecution told the court that in an interview with the police Luke Southerton said he was not violent and would have remembered if he had hit Keanu.
However he admitted that he had previously bitten Keanu but was unaware he had left a mark, the jury heard.
The case has been adjourned until Monday. The trial is expected to last three months.