Woman says conductor Michael Brewer was 'paedophile'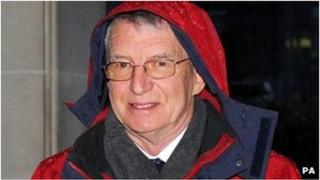 A woman who alleges she was raped as a teenager by her school's musical director has told a court she now realises he was a paedophile.
The woman claims Michael Brewer, 67, raped and indecently assaulted her while she was a pupil at Manchester's Chetham's School between 1978 and 1982.
She told Manchester Crown Court she saw their relationship as "completely normal" at the time.
Mr Brewer, of Swarthmore Road, Selly Oak, denies rape and indecent assault.
Giving evidence, the alleged victim said the relationship between her and Mr Brewer had begun when she was 14 with hugs in his school office, before it "intensified" when she turned 15.
She said their relationship had progressed to full sex and had included occasions when they had been sexually intimate while Mr Brewer had been driving his camper van.
She said that "very quickly Mike would tell me that I bewitched him - that he found me irresistible, that he found me wise and wonderful, hugely talented and that these feelings could not be wrong because they felt so right".
"I felt nurtured in many ways, I felt cared for. I felt special, I was very flattered," she said.
"I did not feel at the time I was a victim - it was a relationship that developed in a completely normal way."
Stream of letters
She told the jury that she had not had any relationships before meeting Mr Brewer, as she had been abused by her uncle at a much earlier age.
"I now realise that I was at the hands of paedophiles," she said.
She added that the abuse had continued at Mr Brewer's family home in Chorlton-cum-Hardy, while his wife at the time, Hilary Brewer, and children had been sleeping upstairs.
The woman also said on the evening of the alleged rape that she was first sexually assaulted by Mrs Brewer who then "wanted Mike to do to me what he had done behind her back with me" while she watched.
She said their relationship had ended when she left the school to study abroad, though she had received a stream of letters from Mr Brewer signed Mat, which she said stood for "Middle Aged Teacher".
Mrs Brewer, 67, from Rossendale, Lancashire, is also on trial and denies aiding and abetting rape and indecent assault.
Mr Brewer, who was appointed OBE in 1995, directed the World Youth Choir and also worked on the BBC's Last Choir Standing programme.
The trial continues.