Shaun Sawyer to become Devon and Cornwall police chief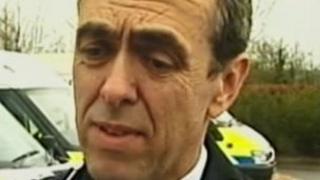 The acting Chief Constable of Devon and Cornwall Police is to take up the job permanently.
Shaun Sawyer was the "unanimous choice" over three other candidates, BBC South West Home Affairs Correspondent Simon Hall said.
All four underwent a "test day" on Tuesday, involving interviews and presentations for the post.
Mr Sawyer, who will be paid £151,000, will be offered a five-year contract. He started his policing career in 1986.
'Dedicated workforce'
Mr Sawyer said: "I am delighted to have been selected at this stage to be the new Chief Constable, and look forward to continue working with the Police and Crime Commissioner, Tony Hogg, to provide the best possible policing service across the peninsula.
"I would like to say how privileged I feel to have been given the opportunity to continue to lead such a dedicated and skilled workforce."
Police and Crime Commissioner Tony Hogg said: "Shaun Sawyer and I have already built an excellent working relationship and I'm confident that will develop further in the future with our joint aim of cutting crime. Shaun has already made some good progress in this regard since taking temporary charge nearly a year ago."
Shaun Sawyer began his police career in 1986, initially as a uniformed officer in central London.
During his career, he lead the Metropolitan Police's investigation into the Ladbroke Grove Rail Disaster in 1999 and has also investigated corruption within the police service.
He also served as the head of counter-terrorism within Scotland Yard, with both national and international responsibilities.
He joined the Devon and Cornwall force as Deputy Chief Constable in April 2010.