Taxpayer paying twice for development land?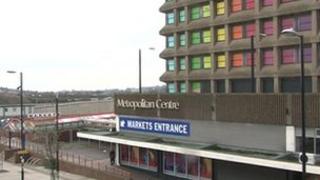 Barnsley Council has just paid £10m to buy its own town centre - even though all the land and property was already owned by the taxpayer.
The drab 1970s concrete markets complex and adjacent shops and offices were among dozens of abandoned or failing commercial and industrial sites across the country bought up by the previous Labour government's Regional Development Agencies (RDAs) over the past two decades.
Local councils believed they would be given the land for redevelopment and expected that to be the case even after the incoming coalition government abolished the RDAs in 2010.
So earlier this year when Barnsley's Labour-led council put together a consortium with commercial partners to start a £125m project to bulldoze and rebuild the town centre it got a shock.
"We were told in no uncertain terms that we would have to pay the full market value for the land or it would be sold off to somebody else," council leader Steve Houghton told me.
"It was vital for the future of a development which will boost the economic prospects of the town. We had no choice but to pay."
Kick-starting economy
In 2010, along with all the other RDAs' assets, the Barnsley's market complex was transferred to a new government organisation, the Homes and Communities Agency.
Councils have since been spending millions buying back some of this property to develop and many of them are now claiming this means the taxpayer paying twice for the same land.
Conservative and Liberal Democrat politicians have a different view.
"I don't think the taxpayer would be impressed if the land was simply given away for free," Conservative MP for Selby and Ainsty Nigel Adams told the BBC's Sunday Politics for Yorkshire and Lincolnshire.
"You have got to remember that some of this land was bought years ago and will have increased in value. That would be an unfair windfall for some councils."
David Ward, Bradford East's Liberal Democrat MP, pointed out that many of the properties had been bought up by the RDAs simply because the only alternative was to abandon them to years of dereliction.
"I have long taken an interest in the future of the old Odeon Cinema in my constituency. It has been offered to Bradford City Council for just a pound," he said.
"But it has already had £100,000 spent on it and still needs more investment. Many other sites could even have a negative equity value. I don't think councils would want all those to be passed on to them."
Money 're-invested'
The Homes and Communities Agency for Yorkshire confirmed that it was not allowed to give councils the property, but denies any of the money has been reimbursed to the Treasury,
"So far we have re-invested every penny from sales into sites we are developing ourselves or in partnership with commercial businesses or in some cases other local councils," the agency's Yorkshire executive director David Curtis told me.
He showed me around the Tower Works, an historic Victorian manufacturing site in Leeds which had been left as a dilapidated site in the 1990s.
Here the agency has spent £5m turning it into starter units for small businesses in the media sector.
Back in Barnsley and York that undoubted success story is cold comfort to two cash-strapped local councils paying millions for property they thought the taxpayer had already bought.