Conductor Michael Brewer denies raping schoolgirl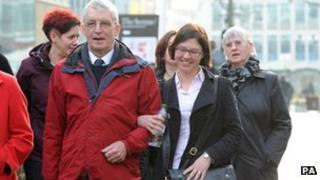 A former musical director of an internationally renowned music school raped a student in the presence of his wife, Manchester Crown Court has heard.
Michael Brewer, 67, from Birmingham, allegedly carried out the attack while working at Chetham's School of Music in Manchester more than 30 years ago.
The court heard he "could not keep his hands off at least two pupils" there.
Mr Brewer, of Swarthmore Road, Selly Oak, denies rape and 13 counts of indecent assault.
His ex-wife Hilary Brewer has also gone on trial alongside him.
The 67-year-old from Rossendale, Lancashire, denies aiding and abetting rape and indecent assault.
The court heard Mr Brewer first assaulted the pupil in the school office in 1978, with abuse continuing until 1982 in his home and camper van.
The complainant in the trial said she was sexually abused from the age of 14 by Mr Brewer.
A jury was told she did not consider it sexual abuse at the time and did not make an official complaint.
'Inappropriate relationship'
Peter Cadwallader, prosecuting, said the victim was above the age of consent when she was raped but had essentially "submitted" to Mr Brewer and his wife.
He added she had a "troubled childhood" but was a "hugely gifted musician".
Mr Cadwallader said Mr Brewer had also acted in an improper way towards two other female pupils - years after the alleged victim in the case left the school.
In the early 1990s he was forced to resign from Chetham's after an inappropriate relationship with a 16-year-old girl, Mr Cadwallader added.
Mr Brewer, who was appointed OBE in 1995, directed the World Youth Choir and also worked on the BBC's Last Choir Standing programme.
The trial is expected to last three weeks.