Stricken diesel tug reaches Portland for repairs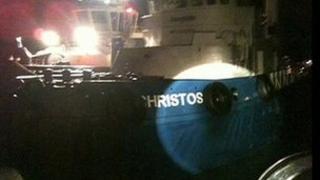 A stricken tug carrying 200 tonnes of diesel will enter Portland Harbour later after an "environmental disaster" was averted, coastguards have said.
The Christos XXII was hit by a ship it was towing, which caused a 40cm (16ins) gash in the hull.
The decommissioned Moto Vessel Emsstrom, which caused the damage, sank off Torbay in Devon on Monday.
Divers temporarily repaired the gash which prevented the diesel from leaking and the tug from sinking.
Overnight it was towed to Portland for further repairs.
It is expected to enter the harbour later, Portland coastguard said.
No pollution risk
The eight-strong crew of the tug Christos XXII had to be rescued after the collision.
Peter Davies, from Brixham coastguard, said: "It's been a success story. I think we've managed to protect the lives of those eight people which is great and we've also managed to avert an environmental disaster."
The Maritime and Coastguard Agency said the vessel that sank listed after striking the tug, but was empty and did not pose a pollution risk.
The incident started at about 21:30 GMT on Sunday when the 70m (230ft) tug slowed to check a problem with the tow and was struck on the port side by the Moto Vessel Emsstrom.