Amiss family takes on National Trust's Tregullas farm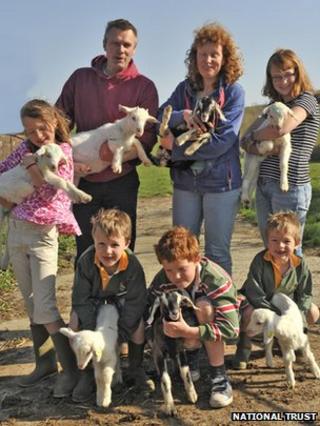 A family has been recruited to take on the challenge of running main-land Britain's most southerly farm.
Nevil and Rona Amiss and their five children will run Tregullas farm, on the Lizard, which was acquired by the National Trust in the early 1990s.
The Amiss family, who previously farmed in Devon, will start their 20-year tenancy in September.
The National Trust said it had received hundreds of applications for the job of running the 96.6 hectare farm.
Alastair Cameron, property manager for the National Trust on the Lizard said: "We are really pleased that Rona and Nevil will be taking on the tenancy at Tregullas and think that they will do a fantastic job in farming at this amazing place."
The Amiss family previously farmed at Higher Fingle farm in Crockernwell near Exeter, developing their business in cattle, sheep, duck eggs and goat meat, selling both locally and further afield.
They intend to work with the local community as well as hosting farm open days.
Rona Amiss said: "We are looking forward to working with the local community to look after Tregullas and to make the most of what it has to offer.
"We think it is a fantastic opportunity to develop what we have been doing at Higher Fingle farm into something bigger and better."
An estimated 200,000 people visit the Lizard Point each year, walking, cycling or driving past the farmhouse to reach their destination.
Dan Meek, the land agent managing Devon County Council Farms Estate, said: "We'll be sorry to see them go as they have contributed a lot to Higher Fingle Farm. I'm sure they will make a great success of their new enterprise."
Since the time the Domesday Book was written, farming has taken place on the Lizard, a mild - but often wild - land in west Cornwall.