New Street station: Concourse 'switch' plans unveiled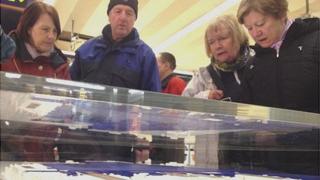 Birmingham's New Street Station will switch over to use a new concourse in April as its £598m revamp progresses.
The existing concourse and entrances, which have been used since the 1960s, will close and passengers will use half of the new concourse.
Network Rail said it meant people could use the station while work continued.
Public exhibitions are taking place in the station between 07:00 and 19:00 GMT from Tuesday to Thursday to inform passengers about the changes.
Platforms at the station are being refurbished one at a time, Network Rail said.
John Lamb, from the Birmingham Chamber of Commerce, said businesses near to the station were prepared to put up with the "disruption".
He said: "Generally I haven't heard a negative word said about it. Most people I know are relieved it's being improved.
"The work's been carefully planned for years and they seem to have done a fantastic job."
This week's exhibitions, the first of a series at the station, will allow passengers to pick up information and and ask questions about how the changes will affect them.
The redevelopment of the station, which is backed by Network Rail, Birmingham City Council, the Department for Transport, Advantage West Midlands and Centro, is expected to be completed in 2015.
Ben Herbert, from Network Rail, said most people he had spoken to at the exhibition, being held in the station's present concourse, had been "very positive" about the changes.
He said: "The whole reason we're here is that when this part of the station closes, it's going to be a big change.
"It's been here for more than 40 years and overnight - some time in April - we will be asking people to come in through another entrance. People just want reassurance they know what's happening and where they'll have to go."
The project, which aims to double passenger capacity, includes creating more than 40 escalators and 15 public lifts, a new station facade and eight new entrances.
'More spacious'
The station is also to be lit by natural light for the first time in more than 40 years.
Train passengers Tom Prakash and Jenna Catton, both from Sutton Coldfield, said they were looking forward to the new-look station.
Mr Prakash said: "The way that Birmingham's going - with new buildings like the library and the Bullring right next door - it deserves a station that can complement them, and hopefully it will soon."
Fellow passenger Jon Anderson, from Wolverhampton, said: "The best thing about the work will be that it won't look like something that was created in the 1960s any more - it'll be brighter and more spacious."
The developers said April marked the midway point for the project, which will also see the the redevelopment of the Pallasades shopping centre and the building of a John Lewis store.