Jordan Cobb search: Police losing hope of finding him alive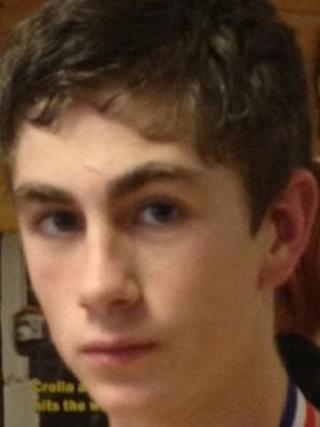 A missing teenager who leapt from a ferry into a river between Devon and Cornwall is unlikely to be found alive, police have said.
Jordan Cobb, 16, from Plymouth, jumped from the Torpoint ferry into the River Tamar late on New Year's Eve.
Police said that based on the time since he went missing with no information received since, there was "little hope" of finding him alive.
A number of authorities have been searching for him since 31 December.
The year 11 student at Stoke Damerel Community College, had been with a group of friends as the ferry was approaching Torpoint when he jumped.
On Thursday, police said one line of inquiry was that the incident had been a "prank gone wrong" after they said he might have leapt from a ferry over a £100 bet.
Several searches have been carried out since his disappearance, focusing on the river, the river bed and the shore.
Nearby Plymouth Sound has also been searched.
A police spokesperson said the coastguard and Ministry of Defence would continue to search for Jordan during their daily patrols along the Tamar.