Reg Dean: Public funeral for Britain's oldest man, 110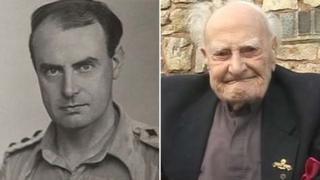 The funeral of Britain's oldest man will be a "happy" public celebration of his life, his son said.
Reg Dean died at his home in Wirksworth, Derbyshire, at the age of 110 years and 63 days.
The service for the former church minister will be at St Mary's Church, Wirksworth, on 23 January.
His only child, Chris Dean, said people had come forward with wonderful stories about his father since he died on Saturday.
He hopes long life is in the family genes.
"It's a lot to live up to, one getting to 110 and trying to live like him because he's coming out as a much better guy than I even knew," he said.
"There are so many people who then come and say 'Well he did this, he did that, he Christened me in 1936, he baptised my child, he used to teach me at Herbert Strutt'."
In the final years of his life, Reg Dean revealed his secrets of living for a long time.
'Become a vegetarian'
"Have good friends, religion you can trust," he said.
"My religion is about the greatest thing I have ever known. I can say that.
"Always look for the best in people, not the worst. Do things for joy, not for prize. And the last to add is become a vegetarian."
He only became a vegetarian in his 70s, and he said it was because of his love for animals.
Chris Dean said he wanted as many people as possible to celebrate his father's life at the funeral.
He added: "It's going to be tinged with sadness but it's got to be a happy occasion. One hundred and ten and 63 days, come on."