London and Surrey hospital review sets out A&E plan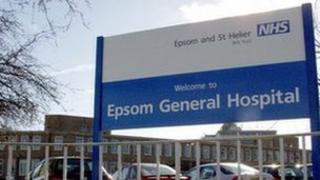 Proposals to have three A&E units across five hospital sites in London and Surrey have been made as part of a review, South West London NHS has said.
Recommendations were made after the trust's Better Services Better Value (BSBV) review of four London hospitals was extended to include Epsom.
Suggestions include having three hospitals with A&E and maternity units, and keeping services at all five sites.
The trust that runs Epsom Hospital said no decisions had been made yet.
The London hospitals are St Helier, Kingston, Croydon and St George's.
'Prepared to campaign'
Chris Grayling, Conservative MP for Epsom, said: "The future of Epsom needs to decided in relevance to Surrey and not as part of big review in south-west London.
"I hope that the people who are carrying out this review realise today just how much they have effectively stuck two fingers up at Surrey residents in the way that this has started."
He added: "I'm planning to talk to all of our local doctors to find out exactly what they think. I'm planning to convene a public meeting of local residents to make sure that we are well prepared to campaign for the future of Epsom."
Recommendations also include having urgent care, day surgery and outpatient facilities at all five hospitals.
Medical professionals have called for further work to look at the feasibility of a stand-alone, midwife-led maternity unit, and a separate inpatient surgery centre, so planned operations are not disrupted or delayed by emergencies.
'Only recommendations'
BSBV medical director Michael Bailey said: "These are clinical recommendations from local doctors and nurses only. Further work needs to be done to determine whether they would work in practice."
He said NHS chiefs needed to look at the impact on patient travel times, NHS staff numbers and finances.
Mr Bailey also said the future shape of children's services was still under discussion, and consultation had already taken place about St George's which would keep its A&E and its maternity unit.
Matthew Hopkins, Epsom and St Helier NHS chief executive, said: "Our patients, as well as local people and staff, will have many questions about the new BSBV recommendations and may be concerned about what they mean."
But he said the plans were "only recommendations at this stage", no decisions had been made yet, there would be no change until 2017 at the earliest, and final proposals would be subject to a 12-week consultation.
The trust has been looking at options for the future after a merger between Epsom Hospital and another Surrey NHS trust was halted last year.