Bombed Out record label has 'no end in sight' despite industry changes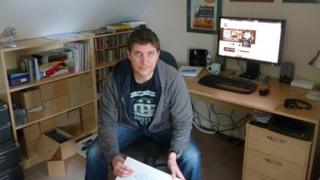 "Bands don't necessarily need record labels any more, which breaks my heart."
The music industry has changed a lot since Steve Jackson created the punk rock record label Bombed Out with two friends in Leeds 15 years ago, using a graduate loan.
The way people consume music has changed so much that it has affected the way it is sold - with record shop giant HMV falling victim to that shift after going into administration this week - and it has affected the way it is produced.
But Steve, who ran up an £8,000 debt because of his desire to get bands heard through Bombed Out, says that as long as labels like his adapt to the changing industry they will survive.
"Ten years ago we'd pay for the band to go into the studio, and maybe spend one or two weeks making a full length album, we'd probably get 1,000 records pressed, and then we'd have some money as well to do some promo on it," Steve said.
"These days that's completely changed. We pay just for the pressing, and now we press just 300-500.
"That means we can do more because records are cheaper, but obviously people are buying fewer records in general."
Despite that, last year was Bombed Out's busiest to date, with Steve now running the label alone from his home in Harrogate, North Yorkshire.
"It wasn't intentional. My wife had a baby girl over the summer so the idea was that I would ease off the label.
"But bands I really liked came to me and said: 'Can you help with our record?', and I would have regretted saying no."
One of those was Sheffield band Wooderson. Bombed Out split the costs of putting their album out with another label, Art for Blind.
'Sentimental thing'
Bassist Sam Lenthall said: "I grew up in the DIY punk scene and since I was 17, Bombed Out was one of the big labels to me, it always released records by bands I was into and knew."
The band spent around £700 recording the record, and they could have simply made it available online as MP3s there and then without involving a label at all.
But Sam said that was never an option.
"It's a bit of a sentimental thing," he said.
"We wanted the album to be pressed on vinyl straight away, we wanted it analogue and really natural.
"MP3s are just numbers and digits really. Seeing that record for the first time was definitely one of the proudest moments we've ever had."
The records Bombed Out puts out are also available on services like iTunes and Spotify, and Steve says they inevitably end up being downloaded illegally as well.
"The reason I started the label was to get the bands heard by as many people as possible, so I can't really denounce people for choosing a free way to listen to our records," he said.
'Choice record shops'
The move to digital is just one area where the music industry has changed though.
The demise of HMV will not have an impact on Bombed Out, unlike other independent record labels, as the punk rock records it puts out very rarely ever find themselves in one of the big chains.
"We go direct to four or five choice record shops that have that kind of community spirit, where people can walk in off the streets and get recommended a record by someone who's knowledgeable about that kind of music," Steve said.
One thing that has remained the same is that bands still need to get out on the road and play gigs.
"Bands need to tour - the punk rock bands that are out there gigging are the most popular."
And Sam said Wooderson plans to do just that with a European tour in May:
"For a band like us you sell your records at gigs. It's nice to have something for people to take home.
"It's an amazing feeling playing a gig and straightaway people coming up to you and asking to buy a record and being able to interact with them."
Bombed Out has never made a profit, and Steve says he never expects it to. He makes his living by day as a web designer.
And after 15 years he has no plans to move on.
"I think as long as there are still bands out there that are still exciting, I don't see an end in sight," he said.