Thames Valley Police officers with Tasers 'to double'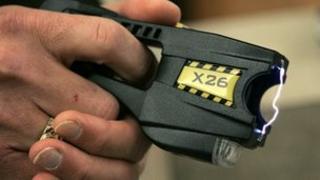 The number of officers issued with Tasers is to more than double, Thames Valley Police have announced.
Until now, only firearms officers could carry the electric stun guns, but that is changing to include others who have been specially trained.
The force's number of Taser trained officers will rise from 205 to 485 - an increase of 285.
Amnesty International urged the force to ensure new officers were trained to the same standard as firearms officers.
Thames Valley Police said there had been a rise the number of incidents where firearms officers with Tasers were needed to help unarmed colleagues, and in the number of assaults on officers and staff, over the past three years.
Assistant Chief Constable John Campbell said: "These are incidents where officers are faced with someone who is threatening violence or has the potential to cause significant harm to officers or members of the public.
"On many occasions the offender will be believed to be carrying weapons."
'Potentially lethal weapons'
He said the proportion of officers able to carry Tasers would rise from 4.9% to 11%, bringing it into line with other forces and the national average of 11.5%.
Oliver Sprague, Amnesty International UK's arms programme director, said: "Tasers are dangerous, potentially lethal weapons.
"As a result they should only be used in a limited set of circumstances where there is a risk to life or very serious injury.
"Given that Thames Valley is one of the last forces across the UK to extend the use of Tasers wider than its firearms officers, they are clearly aware of the severity of the consequences attached to the deployment of this weapon."
Mr Sprague urged the force "to ensure that the officers who are to use these weapons are given the highest level of training possible".
Chief Constable Sara Thornton said: "I have a responsibility to ensure that my officers are equipped to do the difficult job I ask of them.
"It is right that we have increased the availability of Tasers in line with other forces and we will keep our approach under review.
"Officers will be specially selected and trained for this role and I am satisfied that the continued use of the Taser device across the force area will only be considered in those cases where it is necessary and proportionate to the behaviour the officers encounter."