East of England farmers could be hit by 'super dairies'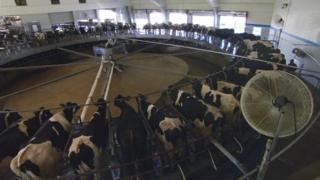 Small dairy farms in the east of England could be replaced by industrial-scale "super dairies", a farm economist has told BBC Inside Out.
Once there were thousands of dairy farms across the region. Now there are just over 200 left.
A recent drop in the world price for milk led to cuts in the price big processing companies pay farmers, leading to more producers leaving the industry.
Sean Rickard, former chief economist to the National Farmers Union, says the future lies with large-scale "super dairies" housing thousands of cows that never roamed outside.
"All my life we've been losing dairy farms. I think I'm being kind by telling the truth. The trend is against smaller units. Bigger units are the future. They can compete. All smaller units can look forward to is greater pressure until they are forced to give up," he said.
But the claim was rejected by the Strachan family, who farm at Rendham in Suffolk, and founded Marybelle dairy firm, 10 years ago.
Large scale
Instead of selling their milk to a big processor, they now make and market fresh milk and other dairy products like cream, yoghurt and ice cream themselves.
They source milk from six local farms and sold via local shops, supermarkets and milk rounds.
James Strachan said there was still a place for local producers.
"We have grown from nothing to a business supplying four million litres of milk a year," he said.
"People want locally-produced dairy products."
As a nation, the UK is still self-sufficient in the production of fresh milk and cream. But around half of higher value products, such as butter and cheese, is imported.
Worldwide milk producers are becoming larger and more efficient, piling pressure on smaller producers in the UK.
Many are struggling to break even despite annual EU subsidies averaging £32,000 per farm.
Large scale "super dairies" are common in the US.
Industrial-scale units house thousands of animals, cutting the cost of production through economies of scale. Backers claim animal welfare standards are higher.
Critics argue they are energy intensive, increase food miles and the demise of small farms will hit biodiversity in the countryside.
'Blade of grass'
In the past 10 years, the number of dairy farms in England has fallen by 4% a year.
Since 1992, in the East region, the number of dairy farms have fallen from 1,004 to 222.
But milk production has not fallen as a result, since herds have grown and milk yields have increased in cows.
"The future lies with large-scale 'super dairy' farms," said Mr Rickard.
"They are low cost and good for the environment."
But Mr Strachan said he was not convinced.
"I was in California over ten years ago and they had herds of eighteen to twenty thousand cows," he said.
"The animals don't get to see a blade of grass and they take a lot of resources. I don't see where we'd put them in Britain."
A spokesman for Dairy UK, which represents milk producers, processors and distributors, dairy product manufacturers and dairy farmers, said: "There is room for all the different production systems and sizes of farm in British dairy farming, whether they be large or small, housed or extensive.
"And all the different sizes of farm and types of production system can be run efficiently."
See more in Inside Out on BBC One East on Monday at 19.30 GMT.