South West sewage text alerts switched off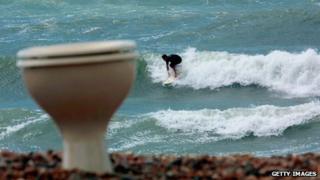 Sewage text alert warnings to surfers and other sea users have been switched off until "early spring".
In the last three years tens of thousands of texts have been sent to people in South West who sign up to get alerts for their local beach.
South West Water (SWW) said it was "improving" the alerts, which are automatically sent out when sewage overflows onto beaches.
Campaigners warned sea users to beware until the service returned.
Andy Cummins, of Surfers Against Sewage (SAS), said: "It's a really useful tool, not just for surfers, but for families too with young children or elderly people.
"If it's going to be more reliable that's a benefit, but there is no other way for people to check."
Tougher standards
There are about 2,600 people registered for the texts via SAS, including 300 for Bantham in Devon and 750 for Porthtowan in Cornwall.
Mr Cummins said: "This summer was the worst for 10 years in bathing water quality.
"There will be tougher standards in 2015 and South West Water needs to do more to protect one of the area's greatest assets."
An SWW spokeswoman said bathing water quality had been "transformed" by a £2bn investment in sewage treatment.
She said: "In this region we have just over 1,700 combined sewer overflows and we have invested £75m in the last 10 years to reduce the volume and improve the quality of discharges in the most sensitive areas including bathing and shellfish waters."