Is the end nigh for dog racing?
By Indy Almroth-Wright
BBC Online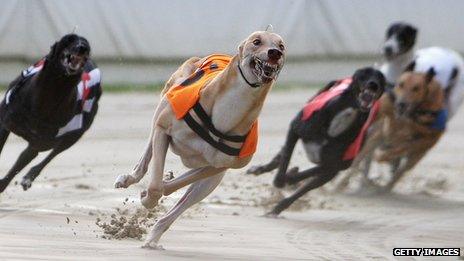 With greyhound tracks shutting down all over the country is the finish line in sight for dog racing?
The closure of Oxford's circuit last month was the final nail in the coffin for the sport in central southern England with all of its four tracks now shut.
Many others are struggling to keep going, as the number of stadiums has dropped from around 80 to 25 in England over the past 65 years.
The tracks at Portsmouth, Reading, Milton Keynes and Oxford have all closed following falling profits and attendances.
The sites are now mostly owned by property developers and earmarked for homes.
The Portsmouth track, which opened in 1936 and closed in 2010, is the first to be redeveloped.
Elsewhere, a scheme has been approved to build more than 300 flats and a leisure complex on the site of east London's famous Walthamstow Stadium.
Former greyhound commentator and race manager Mick Wheble, who has been appointed MBE for services to greyhound racing, started his career in Catford in the 1960's.
It was a boom time for the sport.
He remembers nights at London's White City track, now BBC offices, when crowds of up to 50,000 were common.
"It's simply a question of economics, now there's just not enough money in it," he said.
Mr Wheble spent the last 20 years of his career at the Oxford track which saw attendance numbers halve in the last five years,
"Oxford was probably the most modern track in the Thames Valley," he said.
"The cost of going went up, numbers slid down and then dwindled away."
But he hopes the sport will come out of decline.
"Usually every five-to-10 years racing has a boom," he added.
"I don't think it would ever completely disappear, but the biggest danger of closing tracks is if it went underground."
Racing Post's Jonathan Kay believes the first seeds of decline in the sport were sown in 1961 when off-course betting shops were legalised.
"Prior to that, the only legitimate means of having a cash bet was by going to a racecourse, whether that be horses or greyhounds," he said.
"The situation was exacerbated in 1993 when betting shops were allowed to extend opening hours into the evening."
According to the Greyhound Board of Great Britain (GBGB), the popularity of online betting has also led to the slip in attendances.
It maintains the challenge for greyhound tracks is to adapt to new audiences, while still catering for established customers.
Owlerton Greyhound Stadium in Sheffield is one track which is thriving, according to the GBGB.
The stadium, first opened in 1926, underwent a re-fit in 2010 including the construction of a £1.6m panoramic restaurant and the addition of a casino.
Mr Kay also identified the Bookmakers Afternoon Greyhound Service (Bags), started in 1967, as crucial to the health of the sport.
Around 72 Bags races are staged each day in stadiums purely for the betting shops and the internet.
"With bookmakers paying around £28m in fees directly to the Greyhound Board of Great Britain-licensed tracks," Mr Kay explained.
"There is no doubt that greyhound racing is facing many challenges and, sadly, more track closures are probably inevitable."
But there are signs of hope, with Coventry Stadium reopening last year and Towcester Racecourse in the early stages of developing a greyhound circuit to run inside its horseracing track.
Dog races from Towcester's track will be broadcast around the globe.
Mr Kay said: "I certainly do not think it is in terminal decline.
"If I am still around, I expect to be celebrating the 100th anniversary of the first British race at Belle Vue in 1926."
The GBGB said greyhound racing had dropped from third to Britain's fourth most attended spectator sport after football, horse racing and rugby.
Related Internet Links
The BBC is not responsible for the content of external sites.