Jordan Cobb hunt: Boy jumped into river 'over £100 bet'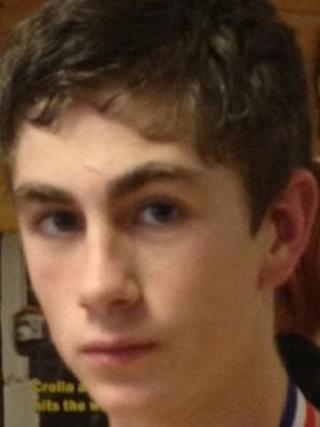 A missing teenager who leapt from a ferry into a river between Devon and Cornwall may have done so over a £100 bet, police say.
Jordan Cobb, 16, from Plymouth, jumped from the Torpoint ferry into the River Tamar late on New Year's Eve.
Devon and Cornwall Police said one line of inquiry was that the incident had been a "prank gone wrong".
Another shoreline search began for the teenager on Thursday.
Friend given bag
Police initially said it was believed Jordan, a year 11 student at Stoke Damerel Community College, had been with a group of friends as the ferry was approaching Torpoint when he jumped.
Det Insp Nick West, of Devon and Cornwall Police, said officers knew "there was a discussion between the group about something".
He said: "We're still waiting for some people to come forward and clarify what went on.
"But we understand that, for some reason, Jordan has given his bag to a friend, he's jumped up on to the front of the ferry and then jumped into the water.
"There is information in the public domain that suggests this is all a prank, that someone within Jordan's group has engaged with them in relation to a bet.
"We do understand that the figure of about £100 has been discussed, but that hasn't been confirmed.
"That's one line of inquiry that we're keeping an open mind on."
Police said they were trying to track a handful of people believed to have been with the teenager in the moments before he jumped.
Several searches have been carried out since his disappearance, focussing on the river, the river bed and the shore.
Nearby Plymouth Sound has also been searched.
A fresh shoreline search began on Thursday involving the Coastguard, the Ministry of Defence and police.