Fatal helicopter flight instructor Ian King found guilty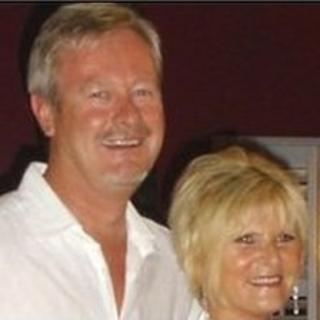 A flying instructor whose student died in a helicopter crash has been found guilty of lying to get him a licence.
Ian King, 53, of West Yorkshire, had denied signing off inaccurate training records for Paul Spencer.
Mr Spencer and his wife Linda died in the crash at Rudding Park, near Harrogate, on 26 January 2008.
The judge at the five-day trial at Leeds Crown Court said Mr King displayed a "gross breach of trust". He will be sentenced next month.
In 2007, former Army captain Mr King recorded that his pupil had completed 51 training flying hours against the Civil Aviation Authority's demanded minimum of 45 hours.
Fast-track process
Following the crash, a record of Mr Spencer's flying experience was discovered among his papers that was different from the hours recorded in the official log submitted for his licence.
The prosecution said that Mr King knew it was false, but certified it to fast-track the process for his student, displaying an "utter disregard" for aviation rules.
The jury found him guilty of making a false representation with intent to deceive the Civil Aviation Authority
Mr Spencer, 43, and his wife, 59, from Brighouse, had just returned from a holiday in the Caribbean when they were killed.
The couple, who ran Country Baskets, a business which sold dried flowers, were regular visitors to the Rudding Park Hotel.
Following the sentencing, the Civil Aviation Authority (CAA) said: "Flight instructors have a duty to certify training truthfully and accurately.
"Following the tragic deaths of Paul and Linda Spencer, the CAA sought corroboration from Paul Spencer's instructor, Ian King, of his certification of Mr Spencer's training.
"No corroboration was found and the decision was taken to prosecute Mr King."