Ex-Stafford Hospital boss Martin Yeates leaves charity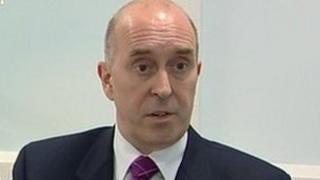 The ex-chief executive of a hospital that was the subject of a damning report has resigned from running a Shropshire healthcare charity.
Martin Yeates left the NHS in 2009, just before a Healthcare Commission report found "appalling standards" of care at Stafford Hospital.
The report sparked a public inquiry - the findings of which are due to be published in the next few weeks.
Impact said Mr Yeates had resigned to avoid distraction from its work.
The Telford-based organisation, which provides alcohol and drug addiction services, appointed Mr Yeates as their chief executive at the end of August.
Chair of trustees David Bell said the charity and Mr Yeates had parted by "mutual agreement".
Mr Yeates was too ill to appear before the public inquiry into the failings at Stafford Hospital, but last November it emerged he had taken on the job at Impact.
In a statement on the charity's website Mr Bell said: "In recent weeks there has been considerable media coverage, in the lead up to the final report of the Mid-Stafford Hospital Inquiry.
"It is essential that the Board, our Staff and Volunteers, are not distracted from our important work in caring for those suffering addictions, and needing our support."
Mr Yeates was unavailable for comment.