Toy company's West Coast rail bid turned down by DfT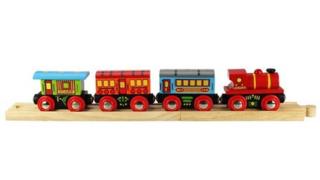 A wooden toy company which offered to take over the West Coast rail franchise has been turned down by the government due to the "safety" of its trains.
In a letter written by Bigjigs to the Department for Transport (DfT), the company offered a "free" rail service run on "enjoyment".
The company received a humorous reply from the DfT saying its wooden coaches were unlikely to meet safety standards.
In October the DfT was criticised for miscalculating the franchise's cost.
It had awarded the contract to FirstGroup, but reversed its decision following a legal challenge by Virgin Trains.
'Human after all'
George Poole, from Bigjigs, which is based in Folkestone, said this spurred him on to write the letter to the Transport Secretary Patrick McLoughlin.
His private secretary, Mark Reach, responded by thanking him for his letter and one of the wooden trains which was sent with it.
Mr Poole said: "As geeky as it sounds it was a delight that they took the time to respond to us, especially as our letter isn't the most serious you would get.
"It shows the bureaucrats do have a sense of humour and are human after all."
In his response Mr Reach said: "While perfect for the in-home market, wooden carriages are unlikely to meet modern crashworthiness standards for operation on the heavy rail network."
He added that the proportions of the train would need to be changed, but the "vibrant livery" would brighten up the railway.
Mr Poole said he is considering resubmitting his proposal.
"I tweeted Richard Branson and Virgin Trains saying hopefully they will appreciate the healthy competition," he added.
"Virgin responded asking whether I'd be interested making a Pendolino prototype."