Man denies Alps murder victim fraud charges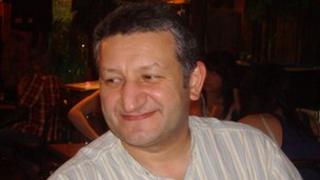 A man has denied trying to access the bank accounts of an engineer's family after his murder in the French Alps.
Abiodun David John, 33, from Salford, pleaded not guilty to eight counts of fraud by false representation before Redhill magistrates.
Saad al-Hilli, 50, from Claygate, was shot dead with his wife, mother-in-law and a cyclist on 5 September.
Mr John was remanded in custody to appear at Guildford Crown Court on 6 February.
He is accused of trying to access accounts in the name of Mr al-Hilli before and after his death.
Surrey Police said the fraud charges are not linked to the investigation into the murder of the Iraqi-born engineer.
The four murders, which happened near Chevaline, Lake Annecy, are being investigated by about police officers in the UK and France.