Taylor Electrical to close after 90 years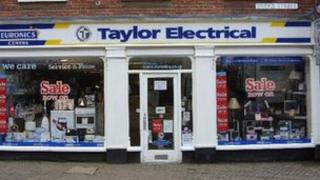 A family-run chain of electrical shops in Norfolk and Suffolk closes after 90 years of trading, leaving 23 people out of work.
Taylor Electrical, which opened its first store in Beccles in 1922, also has branches in Halesworth, Diss and Mildenhall.
Philip Reeve, who has been manager of the Halesworth shop for 11 years, said a closure date had not been set.
"A lot of businesses are on the edge, we've tipped over the edge," he said.
Mr Reeve said the business had been hit by the number of people buying electrical goods online.
"People don't realise the impact it has when people buy stuff off the internet," he said.
Mr Reeve said the announcement has had a surprising impact on customers, with some hugging him in the street and crying.
"We are a community shop," he said. "We're extremely shocked by the reaction we've had, very humbling in a lovely way.
"You don't realise the impact you have on people's lives when these sort of things happen."
A spokesperson from the chain's head office in Beccles said the stores were likely to close "in the next couple of months".