Avon and Somerset Police boss Colin Port loses court action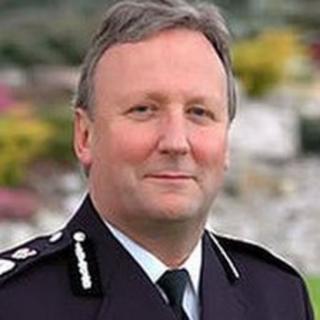 A bid by the chief constable of Avon and Somerset Police to block the recruitment of his replacement has been thrown out by a high court judge.
Colin Port said he was "unlawfully induced to retire" by his Police and Crime Commissioner Sue Mountstevens.
It follows his refusal to re-apply for his own job last November.
"I'm extremely sorry that Mr Port's career has ended in such an unsatisfactory way," Mr Justice Edwards-Stuart said.
'Lost on technicality'
Mr Port had asked the High Court to block the interview process for his replacement and to insist on six months' notice before the interview procedure took place.
Refusing permission for a judicial review of the PCC's decision the judge said the interests of the Avon and Somerset force "must come first".
Speaking outside court Mr Port said he had "lost on a technicality" and was considering appealing.
He said: "This was never about me but wider policing."
Ms Mountstevens said she was "delighted" with the decision.
"The judge rejected Mr Port's complaints in law, found that they were not even arguable and dismissed the case," said a spokesperson for the PCC's office.
"We are going ahead with the process to recruit a chief constable and we are holding our interviews this week to appoint the best candidate for Avon and Somerset."
Earlier on Tuesday the Royal Courts of Justice heard Mr Port felt "humiliated" by his PCC.
Mr Justice Edwards-Stuart was told Mr Port had done "extraordinarily well" as chief constable.
Mr Port's lawyer Mike O'Brien argued the "arbitrary decision" by the PCC should have been scrutinised by Police Crime Panel.
'No intention'
He told the court Mr Port was concerned for the impact of such "arbitrary decisions" on the "wider policing community" and he was entitled to serve out a six-month notice "which he sees as his duty".
Lawyers acting for Ms Mountstevens responded by telling the judge she acted within the law.
They said once the chief constable had told the media he was resigning, in November, she had no choice but to find a replacement and it would be against public interest to disrupt that process.
When Mr Port met Ms Mountstevens on the day she took her oath of impartiality, she told him she wanted to advertise his job so she could appoint a chief constable for her whole three-and-a-half-year term of office.
Mr Port told the commissioner he had "no intention" of re-applying for his own job.
He said he would not seek the renewal of his contract and confirmed he would retire from the police service on 26 January.
Under police regulations a chief constable can be appointed for a fixed term for a maximum of five years.
After the fixed term they can be extended by up to three years but following that extensions can only be for a year at a time.
BBC West Home Affairs correspondent Steve Brodie said he understood Mr Port would be personally covering the cost of the action.