Wyndeham plans risk 100 Peterborough and Maldon jobs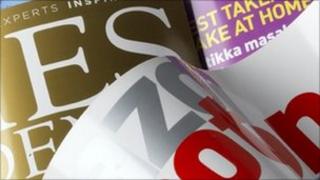 Proposals to cut more than 100 posts at print plants in Cambridgeshire and Essex would be "terrible news" for staff, a union has said.
The Wyndeham Group, whose publications include The Economist, is consulting with staff at its Peterborough plant and its Heron plant, near Maldon.
Seventy jobs could go in Peterborough and 34 in Maldon. The company blamed falling demand, Unite said.
No-one from the Wyndeham Group was available to comment.
The Peterborough-based company currently employs a total of 183 people, with a further 209 at the Heron plant.
In a statement, Unite said: "These redundancies are taking place now.
"The reason for the reduction is to lower the cost base as the company is to use a number of casual workers. The company is then to review terms and conditions in the near future."
Commenting on the Cambridgeshire redundancies, Unite national officer, Steve Sibbald, said: "Unfortunately, Wyndeham Peterborough exclusively prints magazines and there has been a drop in demand, national and globally, for 'ink on paper' magazines because of the way news is delivered these days, through the internet and mobile devices."
He said similar jobs in the area would be difficult for printworkers to find.